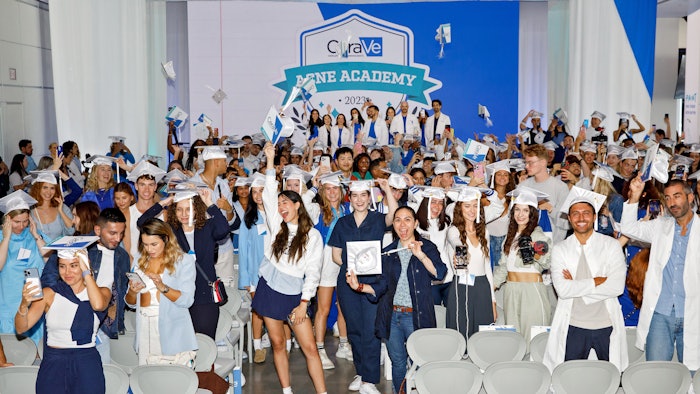 Photo Courtesy of Sara Kerens, AP photographer
CeraVe has launched a new educational campaign that highlights acne truths while debunking common myths and exploring the emotional impacts of acne conditions. The campaign, Clear It Up Like a Derm, combines a collection of dermatologists and Tik Tok stars spreading acne awareness through digital content and collaborations. As part of the education campaign, CeraVe is also bringing its first-ever Global Acne Academy experience to New York City.
Related: DermTech's Survey Data Reveals 75% of Consumers Have Not Had a Full Skin Exam Within Past 12 Months
The Global Acne Academy event will be led by dermatologists as they discuss all things acne. The event will also feature Tik Tok star Charli D'Amelio's personal acne journey and the magic of TikTok illusionist Zach King. Following the discussion, all attendees will step into engaging classroom experiences to develop stronger acne education and create content to help bring this education to the masses.
"As someone who grew up on social media, having acne often impacted my self-esteem, so my journey to having confidence on camera has taken quite some time," D'Amelio said. "I know now that dealing with acne is an incredibly common experience, and I hope my followers understand that they are not alone in their skin care journeys. I want to help them find resources and products that will make them feel confident in their skin."
CeraVe's Acne Range was developed with dermatologists and formulated to disrupt the acne cycle without disrupting the skin barrier. Every CeraVe product, including the acne lineup, features three essential ceramides to help replenish the skin barrier. CeraVe pairs these ceramides with acne-fighting ingredients to help all consumers reduce and prevent new acne breakouts by developing an acne-fighting skin care routine. Its acne line includes two cleansers formulated with benzoyl peroxide, acne control gel with salicylic acid and a resurfacing retinol serum with encapsulated retinol.
"As a dermatologist on social media, it's exciting to see the growing interest in skin care products and healthy skincare habits among consumers, which is especially beneficial for those seeking advice on caring for acne-prone skin and breakouts," said Muneeb Shah, DO, FAAD, Board-Certified Dermatologist. "However, tips on social media aren't always dermatologist-approved, so working with CeraVe to help spread proper education about acne care will help ensure that consumers are armed with the right information to properly care for their acne and discover a skincare routine that best suits their needs."