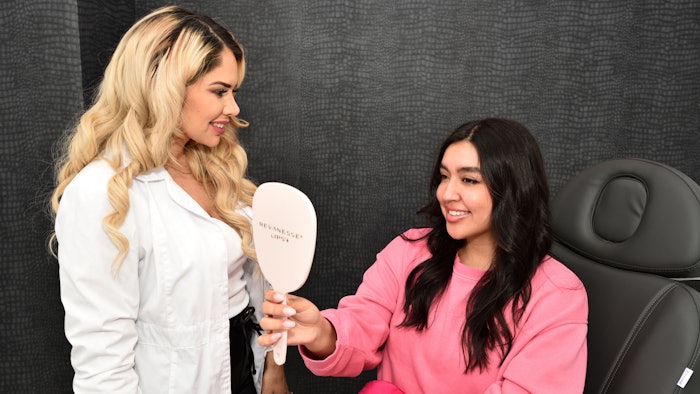 Photo courtesy of Beauty Lounge Medical Spa & Latina Giving Circle
Beauty Lounge Medical Spa, a Latina-owned aesthetic destination specializing in BIPOC treatments, and Latina Giving Circle, a local non-profit that creates opportunities to connect and give back to the Latinx community, announced the launch of the "Heritage Glow" Facial, available exclusively during Hispanic Heritage Month from Sept. 15 through Oct. 15, 2023. 
A portion of the proceeds from this transformative facial will help Latina Giving Circle with their goal to raise $20,000 for their current grant cycle supporting the Leadership Development of Latinas in the San Diego region. 
"Since opening Beauty Lounge in 2018, my team and I have treated thousands of Hispanic women and men for hyperpigmentation, melasma, acne scarring and other skin conditions that we are more susceptible to due to our heritage," said Shawnda Dorantes MSN, APRN, FNP-C, Beauty Lounge founder and master injector. "As a Latina woman, I know just how much skin discoloration can affect self-confidence. I truly understand the importance of catering to the specific skin care needs of our diverse clients."
Related: Pure Fiji's Philanthropic Initiatives Support Communities in Crisis
The one-hour "Heritage Glow" facial includes a three-step treatment featuring gentle exfoliation to remove dead skin cells, oxygenation to stimulate blood flow and collagen production and a revitalizing massage. It is designed to smooth uneven skin tones, which are commonly caused by skin conditions such as hyperpigmentation and melasma, both of which are prevalent in those of Hispanic heritage and women with darker complexions.
The "Heritage Glow" facial also promotes lymphatic drainage and reduced puffiness, leaving skin glowing and refreshed, plus a customized fruit enzyme mask that diminishes acne scars and dark spots. Guests can enjoy the exclusive Hispanic Heritage Month facial at Beauty Lounge Medical Spa located in San Marcos.