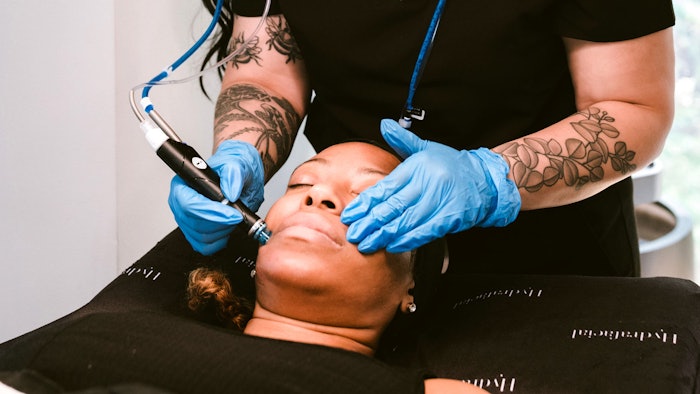 Photo Courtesy of The Beauty Health Company
The Beauty Health Company has entered an agreement with Soho House to supply Hydrafacial Syndeo devices to all Cowshed Spa locations across the United States. Syndeo combines Hydrafacial's treatment experience and results with a modern, digital platform. Using Syndeo's connected interface, Cowshed estheticians can personalize each treatment according to a client's unique skin needs and preferences, delivering an immediate Hydrafacial glow.
Related: Hydrafacial Reaches Milestone with 30,000th Placement
The strategic partnership expanded a successful pilot program that introduced Hydrafacial Syndeo at the Cowshed Spa at Soho House Chicago earlier this year. Hydrafacial Syndeo systems are now available at locations in New York and Miami. Envisioned as a retreat within a retreat, every Cowshed spa expands the hospitality of Soho House into wellness and well-being for guests, injecting a little country calm into people's busy lives.
"We are thrilled to bring Hydrafacial to Cowshed spas at Soho House locations across the U.S. as natural gathering places for creatives, innovators and tastemakers," said BeautyHealth president and CEO Andrew Stanleick. "Our two brands share a passion for design, exceptional experiences and personal expression and confidence—making Hydrafacial Syndeo a fitting addition to the spa menu at every Cowshed location."
"Our members are always seeking out the next best thing in skincare. This partnership combines our world-famous holistic facials with Hydrafacial's technology to generate fantastic results for our members to enjoy." Said Victoria Nickle, wellness consultant at Soho House & Co.