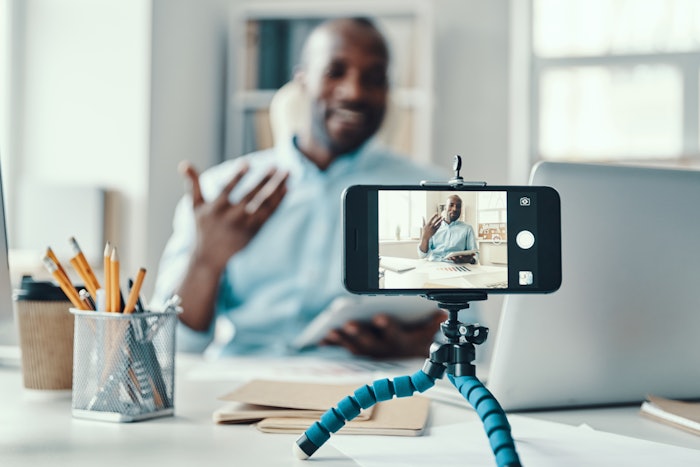 Credit: gstockstudio - stock.adobe.com
When ASDS released the results from their Consumer Survey on Cosmetic Dermatologic Procedures last year, the increasing impact social media has on what treatments and aesthetic practitioners potential patients decide to seek out was significant to say the least. According to the survey results, social media was the second leading factor in buying decisions for skin care products and the third leading factor influencing the decision to have a cosmetic treatment. There is a significant increase of patients following their current or potential provider on social media, going from 40% in 2019 to 78% in 2021.
Sue Ellen Cox, M.D., president of ASDS, said in a press release, "As expected, this survey shows an increase in the use of social media and digital communication platforms for skin health and beauty information."
The American Acne and Rosacea Society (AARS) even provided a social media toolkit for Acne Awareness Month this past June intended to help its members share educational material about acne and promote medically-based acne treatments throughout the month. Despite advancements in science-backed medical therapies for acne, social media influencers continue to promote unverified treatments that have not undergone proper professional review, some of which can actually harm the skin. 
Andrea Zaenglein, M.D., FAAD, president of AARS, said, "As experts in the diagnosis and management of acne, AARS members want to reach individuals of all ages to educate them about acne and the many advancements in treatment. There is a lot of confusion and misinformation about acne, especially online. This month is a great time to emphasize the facts."
Educational Social Media for Professionals
Patients aren't the only ones interested in learning about aesthetic treatments, skin care recommendations and trends, as well as therapies for skin conditions, though. Many practitioners and medical aesthetics professionals provide educational content that other industry professionals find useful and demonstrate interest in through their engagement with these posts. However, the social platforms clients appear to prefer might not be the same ones industry professionals with more knowledge and experience find most useful. In order to ensure we are providing educational content to our readers on the social platforms most useful and convenient for you, we wanted to know which social media platforms you prefer.   
In our recent survey which asked, For professional insights and information, this social media site is most useful for me: Facebook, Instagram or LinkedIn. 59% of readers said LinkedIn, 41% said Instagram and 0% said Facebook.
With the ever-evolving trends and treatment innovations in the medical aesthetics industry, it is crucial to stay up to date and use every educational resource at your disposal so you are providing the best care to your patients. Here are six informative MedEsthetics articles to help you do just that.
Check back every Tuesday for a new one-click survey.
We'll reveal the answers in next week's MedEsthetics newsletter.