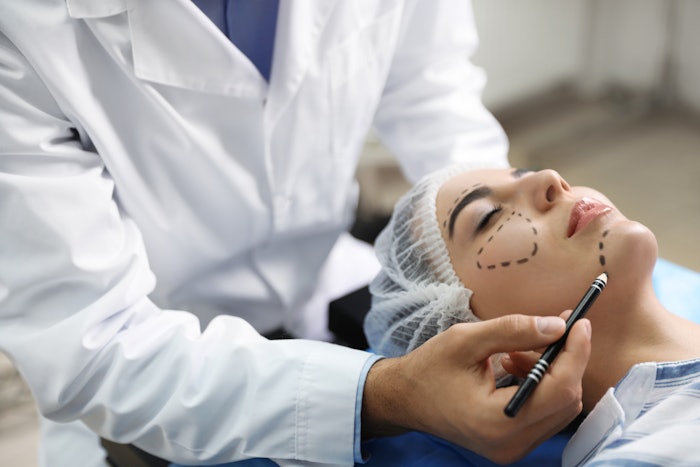 New Africa - stock.adobe.com
A study from The Ratio by Body Math analyzed cosmetic procedure hashtags used on Instagram and Tik Tok in the last 30 days, finding that tummy tucks are currently the most popular cosmetic surgery on social media. Rhinoplasty, nose job, filler and facelift rounded out the top five. 
Related: TikTok Trend: Why Masseter Botox is Trending
1. #tummytuck - 56.6M total hashtag data
Known as an abdominoplasty, this surgery improves the appearance of the abdomen by removing excess fat and tightening muscles. Despite having only 1.6M hashtags on Instagram, TikTok videos featuring this hashtag have 55M views within the last 30 days.
2. #rhinoplasty - 39.6M total hashtag data
Rhinoplasty changes the appearance of the nose and can improve functionality too. Though this type of surgery can be both for function or cosmetics, it is still one of the most popular forms of cosmetic procedures.
3. #nosejob - 36.7M total hashtag data
The more common name of the rhinoplasty, or "nose job", arrives in third place with a total hashtag score of 36.7M. Having both names for this common procedure so close to the top shows how popular this cosmetic surgery truly is on social media.
4. #filler - 29.5M total hashtag data
Dermal fillers are noninvasive and provide smoother skin and additional volume to specific areas on the face.
5. #facelift - 27.3M total hashtag data
Otherwise known as a rhytidectomy, this procedure improves the appearance of aging by removing or repositioning loose skin, muscle or fat.
6. #breastlift - 18.6M total hashtag data
A breast lift involves lifting the breast and removing the excess skin. Though this procedure will not change the size of breasts, it can also improve asymmetry and provide a more youthful appearance.
7. #liposuction - 15.2M total hashtag data
Liposuction remains a popular cosmetic procedure as many people want to remove fat from specific parts of their bodies.
8. #hairtransplant - 11.7M total hashtag data
Hair transplants can help treat androgenetic alopecia. The procedure is minimally invasive and there are numerous different types of hair transplants depending on the severity of the patient.
More: The Growing Business of Non-Surgical Hair Restoration
9. #bodycontouring - 8.3M total hashtag data
In eighth place is body contouring, with a total hashtag score of 8.3M. This procedure can include a tummy tuck, arm lift, medial thigh lift, lower body lift or more.
10. #injectables - 8M total hashtag data
Similar to fillers, injectables focus more on wrinkles and lines on the face but can also be used on the hands and lips.