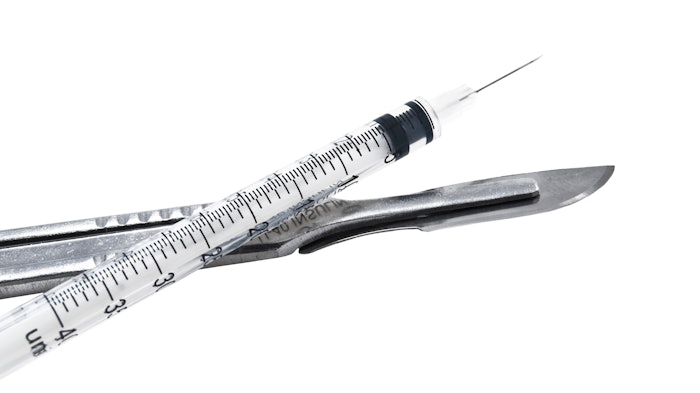 Botulinum toxin type A (BTXA) injections can improve facial assymetry due to facelift-induced nerve damage, according to the outcomes of a study published in the Aesthetic Surgery Journal (August 10, 2021).
Fifteen patients with post-rhytidectomy facial palsies were treated in the nonparalyzed side with BTXA. The authors note that it is possible to identify the muscles that should be treated based on analysis of the smile deviation vectors.
Related: Botulinum Toxin Reduces Scar Size After Lower Blepharoplasty
The dose varied from 1-2 Uv/point. Patients were examined 15 days after injection and "touch-ups" were performed, if needed. Patients were then re-treated after five to six months in case of asymmetry recurrence.
Symmetry was achieved in all cases. Six patients had definitive nerve lesions and needed to be treated every six months after the first session.
Five patients had lesions affecting the upper third of the face; four of them were definitive nerve lesions. Two of the four patients who were treated less than two weeks after surgery recovered early from the post-facelift paralysis and developed reversed asymmetry due to the BTXA.
Related: Botulinum Toxin Injections Improve Postoperative Scar Quality
In seven patients, the post-facelift asymmetry was due to neuropraxis: the recovery from the nerve injury and BTXA treatment occurred symmetrically on both sides of the face in the following months, after one single session.
The authors concluded that post-facelift asymmetries were successfully managed with the proposed protocol, and the best time for injection was two to four weeks after surgery.