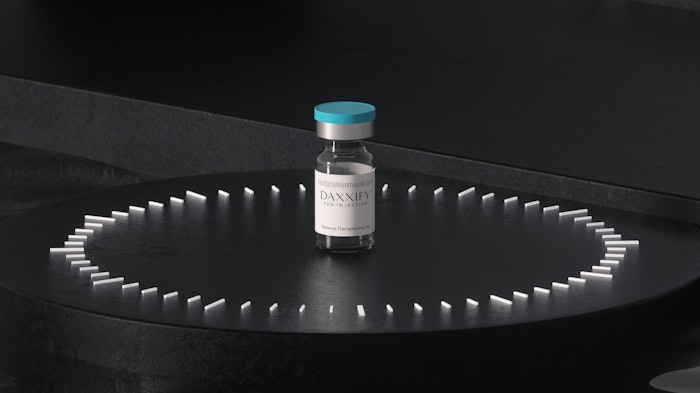 Photo courtesy of Revance Therapeutics.
Revance Therapeutics announced that the FDA has approved DAXXIFY for injection for the temporary improvement of moderate to severe frown lines (glabella lines) in adults. 
DAXXIFY is the first and only neuromodulator stabilized with Peptide Exchange Technology (PXT) and is free of both human serum albumin and animal-based components. The FDA approval augments the company's innovative aesthetics portfolio and expands the company's access to the US facial injectables market. 
Related: Avéli Receives FDA Clearance for Long-Term Reduction of Cellulite
"The FDA approval of DAXXIFY is a foundational achievement for the company as it marks the culmination of years of pioneering research and development made possible by the outstanding execution of our talented team, along with strong support from the medical and investor communities," said Mark J. Foley, Revance Therapeutics' chief executive officer. "We look forward to continuing to set new standards in aesthetics and to establishing a new category of long-lasting, peptide-enhanced neuromodulators."
The U.S. approval of DAXXIFY was based on the data generated in the SAKURA Phase 3 clinical trial program, which included more than 2,700 patients and approximately 4,200 treatments.
In the trial, 74% of subjects achieved a > two-grade improvement in glabellar lines at week four, per both investigator and patient assessment. At week four, 98% of subjects achieved none or mild wrinkle severity, and various patients maintained treatment results at nine months.