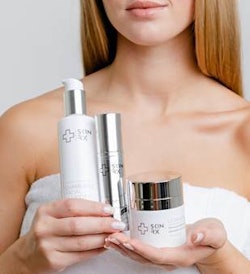 Photo Courtesy of Skin Rx
Skin Rx Age Reverse System is a clinically proven three-step regimen that rejuvenates the skin with a smoother texture, firmness and a radiant glow. At the core of Skin Rx is the belief that skin health can only be achieved through science-driven solutions. The brand is dedicated to developing high-quality, entry-level medical-grade skincare that delivers exceptional results at an accessible price range. 
More: Jennifer Baron, M.D. Introduces Multi-functional Skin Care Line Based on Patient Requests
Age Revere System includes:
Chamomile Facial Cleanser: Gentle gel cleanser formulated to replenish moisture and nourish skin while removing impurities. Chamomile and ginger essential oils calm and soothe skin, helping to reduce redness and irritation. Algae peptides firm and smooth skin texture, while brown algae extract clears away pollution and makeup.
C-Stem Anti-Aging Serum: Concentrated anti-aging serum with lilac stem cells, vitamin C, and marine extracts. Dramatically improves deeper lines, brightness, texture, and pores.
Ultra Benefits Moisturizer: Antioxidant moisturizer combining the strongest antioxidant, Lipochroman, to help reverse and prevent visible aging changes. Peptides and brighteners visibly improve the appearance of lines, wrinkles, and age spots.