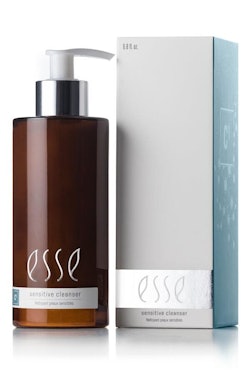 Esse Skincare Sensitive Cleanser soothes and calms sensitive skin using pre- and pro-biotics, aloe vera and jojoba oil. The pH-balanced, creamy cleanser is non-foaming and has been formulated to minimize irritation to sensitive skin while still removing makeup effectively.
The cleanser uses a Biome+ Level 2 formulation that includes an extract of Lactobacillus that positively shifts microbial populations for healthy, radiant skin.
Esse Sensitive Mist contains probiotic extracts and prebiotic nutrients to support a state of equilibrium in the skin's microbiome. Gentle, moisturizing ingredients improve skin hydration. Can be used throughout the day to calm and hydrate skin.
Main Benefits:
Calms and relieves irritation
Soothes and hydrates while cleansing
Non-foaming, it cleanses effectively and removes makeup
Key Ingredients:
Prebiotics and Probiotics: support a healthy skin microbiome to heal and protect the skin.
Aloe Vera: contains soothing and calming polysaccharides.
Jojoba Oil: dissolves oil-based impurities and make-up.