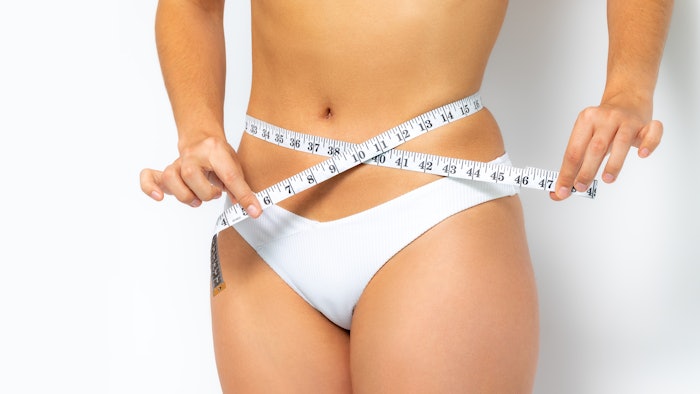 Combination treatment with a high-intensity electromagnetic field(HIFEM) device (Emsculpt, BTL Aesthetics) followed by radiofrequency (RF) combined with targeted pressure energy (TPE) (Emtone, BTL Aesthetics) effectively reduces circumference, and improves skin laxity and the appearance of cellulite on the abdomen and buttocks, according to the findings of a study by Diane Irvine Duncan, MD, FACS.  
Related: Combination Contouring Treatments
The study (published in the Journal of Cosmetic Dermatology (October 22, 2021) included 15 subjects, who were split into two groups. Group 1 (n=7) underwent treatment in the abdomen. Group 2 (n=8) underwent buttock treatment. All subjects received four treatment sessions with the HIFEM treatment administered first and immediately followed by simultaneous RF and TPE treatment. The study outcomes were assessed by the circumference measurement, satisfaction and comfort questionnaires and digital photographs. 
Related: RF-Assisted Liposuction Effective in Face and Body Contouring
Dr. Duncan concluded that the treatments were safe and comfortable. At one month, the abdominal circumference significantly decreased by 4.4 ± 3.5 cm compared with the baseline, while the buttocks showed a significant increase of 1.0 cm. These results (abdomen -4.1 cm and buttocks +1.2 cm) were sustained for three months without a significant decline. There ws a 93.3% satisfaction rate between both groups, and most subjects noted that the appearance of the treated area was improved.
The consecutive application of HIFEM, RF and TPE noticeably improved the appearance of the abdomen and buttocks, and subjects showed enhancement of abdominal body contour, buttock lifting and improved skin quality with reduced cellulite and skin laxity.