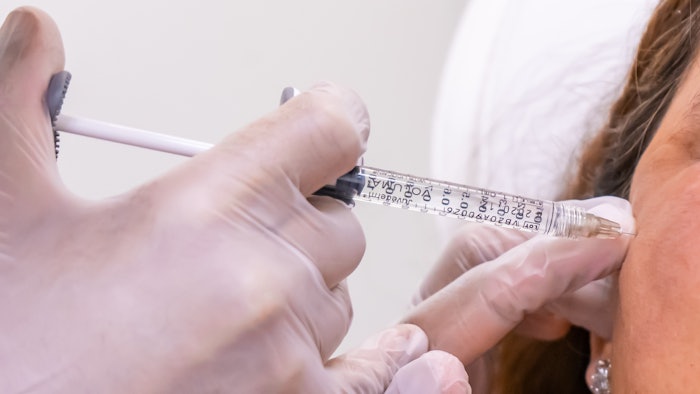 Researchers used ultrasound to assess patterns corresponding to different dermal fillers. Their findings were published in the Journal of Cosmetic Dermatology (February 28, 2021).
The bi-center observational and retrospective study included 60 patients who had undergone previous aesthetic treatments with dermal fillers. Ultrasound examinations were performed by one experienced observer at each study center. 
Related: High-frequency Ultrasound for Diagnosis of Filler-induced Nodules and Granulomas
Among the 60 patients, 48 patients showed a well-defined ultrasound pattern. Twelve patients exhibited a mixed pattern. According to the ultrasound images, four different types of patterns were identified: 
Heterogeneous: Characterized by alternating hyperecoic and anechoic area, the pattern is associated with healthy skin and subcutaneous cellular tissue and with fully integrated hyaluronic acid (HA) fillers. 
Fine grain snowfall: Characterized by alternating hyperechoic imaging with posterior echogenic shadows, this pattern is typical of liquid injectable silicone. 
Coarse grain snowfall: Characterized by hyperchoic images distributed all over the tissue,this is typical of calcium hydroxyapatite and polymethyl methacrylate-based fillers.
Globular: Characterized with typical "cystic" imaging with anechoic images indicative of liquid semi-liquid content, this pattern is characteristic of polyalkylamides and polyacrylamides, and HA-based fillers immediately after their injection. 
The authors noted that the presence of mixed patterns was due to different aesthetic procedures performed at different times and that ultrasound imaging may be a valuable tool for assessing the nature of former dermal filler procedures in daily practice. The identification of these patterns can assist specialists in choosing the best therapeutic approach in patients who underwent previous aesthetic treatments.