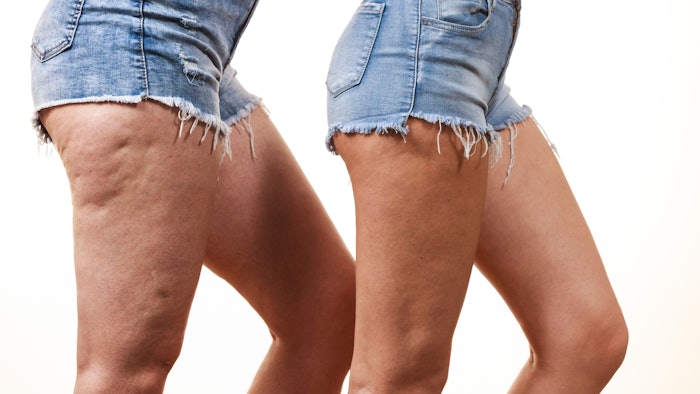 Data from two Phase 3 randomized, placebo-controlled trials (RELEASE-1 and RELEASE-2) of Qwo (collagenase clostridium histolyticum-aaes) for the treatment of moderate to severe cellulite showed that Qwo significantly improved cellulite appearance and was generally well tolerated.
A total of 843 women received ≥1 injection (CCH vs placebo: RELEASE-1, n = 210 vs n = 213; RELEASE-2, n = 214 vs n = 206). The data, published online in the Journal of Drugs in Dermatology on April 7, 2021 showed that a greater percentages of CCH-treated women had ≥2-level composite improvement versus placebo in RELEASE-1 (7.6% vs 1.9%) and RELEASE-2 (5.6% vs 0.5%) and ≥1-level composite improvement in RELEASE-1 (37.1% vs 17.8%) and RELEASE-2 (41.6% vs 11.2%). Most adverse events (AEs) in the CCH group were injection site related.
The studies were conducted from February 2018 to September 2018. In addition to Phase 3 studies, the publication also includes a supplemental video that demonstrates the injection techniques for Qwo.
"The data, from the largest cellulite studies ever conducted, provides further evidence that Qwo may be an effective treatment for women with a variety of skin types who dislike the dimples on their buttocks," said Joely Kaufman-Janette, MD, lead author, principal investigator and board-certified dermatologist at Skin Associates of South Florida.