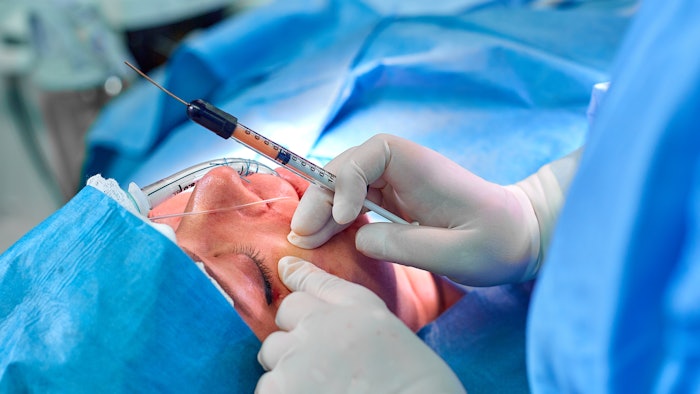 Doppler-ultrasound (DUS) imaging can help injectors visualize and avoid the temporal artery when filling the temples, and also provides imaging of existing fillers, which can help improve the safety and outcomes of lipofilling in the temple area, according to a study published in the Aesthetic Surgery Journal (May 2021). 
Researchers Johnathan Kadouch, MD, et al, performed lipofilling treatment of the temporal fossa of the face. Prior to fat harvesting and injection, they performed DUS examination for vascular mapping and imaging of previously injected (permanent) fillers. In addition, they used DUS during injection of the autologous fat to guide the treatment. They treated 20 patients (ages ranged from 35-64 years old with a mean age of 57.9). 
Related: High-frequency Ultrasound for Filler Induced Nodules and Granulomas
Sixteen of the 20 patients (80%) had been injected with resorbable or nonresorbable fillers elsewhere in the past. The temporal artery could be visualized and avoided in all cases. An average of 1.1 cc of autologous fat was injected in the temporal fossa per side. One case of edema and nodules was described, but no other adverse events were reported. 
They noted that using DUS during a lipofilling treatment can add valuable information to the procedure and should be considered an integral part of a safe lipofilling treatment.