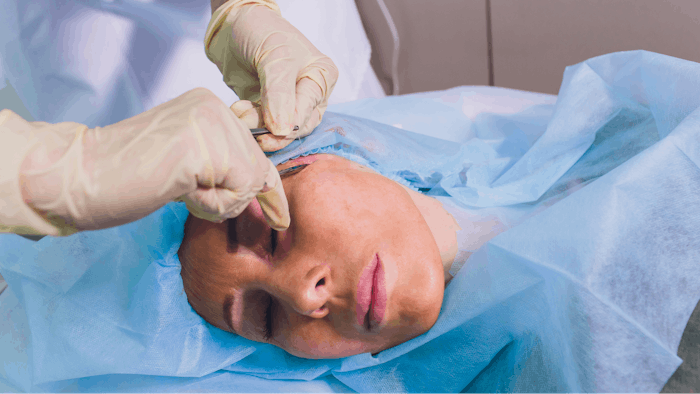 Facial thread-lifting has grown substantially in popularity, thanks to new generation resorbable threads that reduce the risk of complications. However, fewer complications does not mean there are no complications. Reported complications include bruising, swelling, skin dimpling, infection, inflammation abscess, thread extrusion, subcutaneous granuloma and injury of surrounding structures.
To help providers reduce these risks and respond appropriately when complications do arise, Chen Youbai, MD, performed a retrospective study on treatments for facial thread-lifting-related complications. The paper was published in the Journal of Plastic and Reconstructive Surgery (June 2021).
The authors performed a retrospective review of electronic medical records of patients who experienced complications between January of 2016 and January of 2020. The sample included 61 patients, all female, with a mean age of 36.3 (+/- 8.9 years). The most common reason for consultation was infection (31.2%), followed by dissatisfaction with changes in facial contour (23%), paresthesia (19.7%), dimpling and irregularity of the skin (16.4%), subcutaneous induration (13.1%), thread extrusion (4.9%) and facial nerve injury (3.3%). 
Related: Crisscross PDO Thread Pattern Improves Longevity
The majority of the complications were first treated conservatively with nonsurgical methods, and 51 patients (83.6%) showed improvement in symptoms following nonsurgical treatments. Ten patients (16.4%) requried revision surgery that included debridement and thread removal. Preoperative ultrasonography in three patients indicated that the thread was surrounded by infection. 
In the cases that required thread removal, a 1 cm incision was made along the preauricular hair line. The end of the thread was exposed by blunt dissection. After removal of the thread, the site was thoroughly curetted to remove all necrotic tissues and irrigated with hydrogen peroxide, providoneiodine and saline.
During a median follow-up of 1.7 years, nine out of 10 patients recovered well and reported satisfaction, while one patient was dissatisfied due to subsequent scarring at the site of surgical incision.
Related: Beauty's 2021 Resurgence: Botox, Lip Filler, Microneedling Among Top Treatments
The authors noted that the most common complication of facial thread-lifting treatments was infection, and the majority of the complications could be treated nonsurgically. Debridement and thread removal are recommended for patients with recurrent infection, thread extrusion and subcutaneous induration. Preoperative ultrasonography was helpful in defining the area of thread infection, and the threads were able to be completely or partially removed within three months of the thread-lifting treatment.