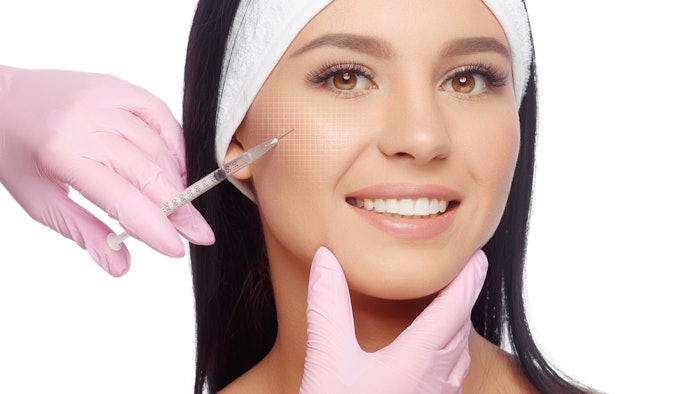 Researchers Barbara Hersant, MD, PhD, et al. investigated and assessed the synergistic effect of the combination of hyaluronic acid (HA) and autologous platelet-rich plasma (a-PRP) injections on facial skin rejuvenation in comparison to using either treatment by itself. The findings of this study were published in the Aesthetic Surgery Journal (July 2021). 
This randomized, controlled, prospective study included 93 patients that were randomized into one of three intervention groups. Each subject underwent three treatment sessions with either a-PRP, HA or a mixture of a-PRP and HA (Cellular Matrix; Regen Lab) injected into the facial cheeks. 
Related: Platelet-Rich Fibrin Matrix Improves Skin Texture
The treatment with Cellular Matrix led to a significant improvement in the overall facial appearance compared to the treatments that were either only HA or a-PRP. Patients who received Cellular Matrix showed 20%, 24% and 17% average increases in FACE-Q score at one, three and six months posttreatment, respectively. Patients who received HA treatment had a 12%, 11% and 6% improvement in their FACE-Q scores, and patients who recieved the a-PRP treatment showed a 9%, 11% and 8% improvement in theri FACE-Q scores at one, three and six months posttreatment, respectively. 
The biophysical measurements showed significantly improved skin elasticity for the Cellular Matrix group compared with the groups receiving a-PRP or HA alone. There were no serious adverse events reported. 
The authors concluded that combining a-PRP and HA seems to be an effective treatment for facial rejuvenation with a highly significant improvement in facial appearance and skin elasticity compared to HA or a-PRP treatments alone.