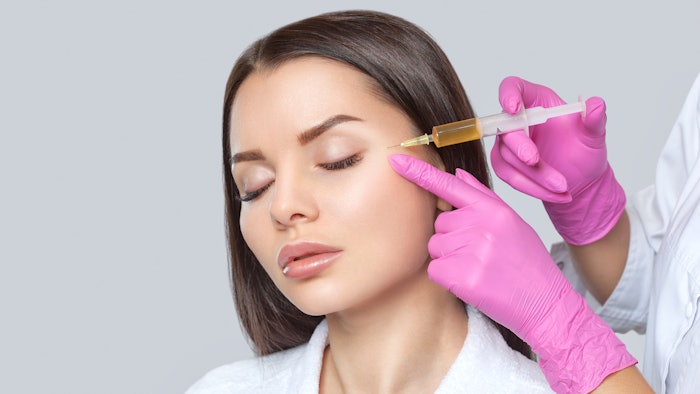 Dermal filler injections for revolumization of the temple region are typically injected in deep or superficial targets. But, there may be another target: the intermediate temporal fat pad (ITFP). For his study, published in the Aesthetic Surgery Journal (December 2021), Christopher C. Surek, DO, examined the anatomy of the intermediate temporal fat pad (ITFP) as it relates to filler injection procedures and used ultrasound technology to locate the fat pad and guide injection.
Related: Improving the Safety of Temporal Region Injections
He used ultrasound technology to identify and inject red dyed hyaluronic acid filler into the ITFP in 20 hemifacial fresh cadavers. Then, he  performed cross-sectional dissection to confirm injection accuracy and document pertinent anatomical relationships. The same technique was performed in a single clinical patient case employing ultrasound guidance and injectable saline.
Related: Study Confirms Lifting Capacity of Fillers
Surek identified the ITFP as a quadrangular structure located in the anterior-inferior bony trough. Dissection revealed that the ITFP is supplied by a middle temporal artery branch and encased between the superficial and deep layers of deep temporal fascia.
In 18 of 20 (90%) injections performed under ultrasound guidance, the injected product was accurately delivered to the substance of the ITFP. In 2 of 20 (10%), the product was found immediately below the deep layer of deep temporal fascia within the temporalis muscle.
Related: Ultrasound Improves Safety of Lipofilling Procedures
In the single clinical case, he was able to successfully inject saline in the ITFP under ultrasound guidance.
Having confirmed that the ITFP is a consistent anatomical structure in the anterior-inferior trough of the temporal fossa, which can be identified for injection using ultrasound technology, Surek encouraged further clinical evaluation to determine the role of the ITFP as a potential intermediate injection target for temple volumization procedures.