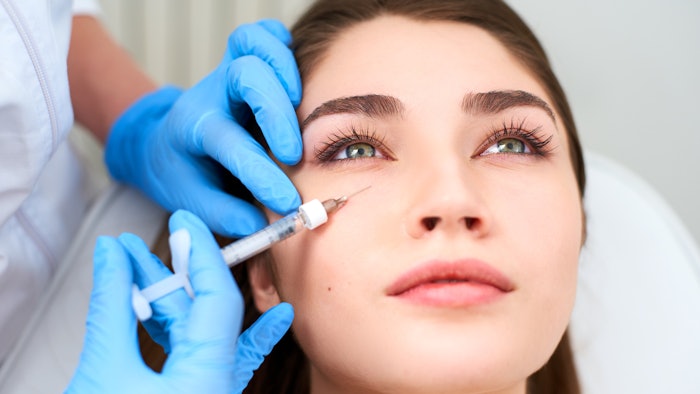 Dermal fillers have proved highly effective and popular, yet they are limited in utility due to rapid degradation and possible hypersensitivity reactions. Hence, the use of off-the-shelf adipose-derived fillers has been regarded as a potential longer-term option. In the Aesthetic Surgery Journal (November 24, 2021), researchers from the department of plastic surgery at Nanfang Hospital, China, shared the outcomes of an autologous adipose tissue-derived product for skin filling.
The product uses adipose collagen fragment (ACF), which is prepared through pulverization, filtration and centrifugation.The study included both an animal model to determine cell viability of the ACF and a human to evaluate skin filling capacity and collagen remodeling.
Related: Adipose-derived Stem Cells Improve Aging Skin of Nude Mice
The investigators injected 36 female BALB/c nude mice intradermally with ACF, nanofat and phosphate-buffered saline (9 spots/side, 0.01 ml/spot) in their dorsal skin. They evaluated macrography, structure, types of collagen and cell viability of the ACF through immunostaining, Western blotting and cell culture assays.
For the human study, 21 female patients with fine rhytides in the infraorbital area were enrolled and received ACF treatment; researchers recorded the therapeutic effects and patient satisfaction scores following treatment. 
Related: Adipose-derived Exosomes Improve Wound Healing
The ACF yield from 50 ml of Coleman fat was 4.91 ± 0.25 ml. ACF contained nonviable cells and high levels of collagen I, collagen IV and laminin. ACF significantly improved dermal thickness and collagen synthesis.
The majority of patients (85.7%) were satisfied with the therapy, and no infections, injection site nodules or other unwanted side effects were observed.