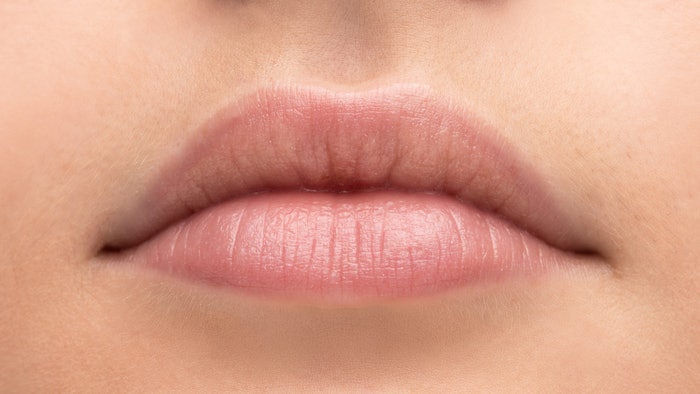 Researchers from the Kosmesis Aesthetic Plastic Surgery Center in Athens, Greece published a step-by-step lip augmentation technique using a Phi caliper and hyaluronic acid (HA) fillers that followed 833 patients who had undergone the procedure. The study, published in Plastic and Reconstructive Surgery – Global Open (February 2, 2022), showed high satisfaction rates with low rates of adverse events.
Related: Lip Enhancement in 2022: Choosing the Right Fillers
For the "step-by-step Φ technique", the injectors apply the golden ratio 1.618—known as Φ (phi)—to identify the proper points for injection and never inject more than 1–1.5 ml of HA per session. Using a specific phi caliper (9 cm × 2 cm, Golden Mean Calipers), they identify 3–4 points in each upper half of the lip and inject 0.01–0.05 ml of lower concentration (25 mg/g) HA in each particular area, from the vermillion border into the vermillion. On the lower lip, they use the caliper to identify again the proper injection points.
Related: Lip Fillers: Achieving the Correct Proportions
A total of 833 patients (18-72 years of age) underwent this procedure at the author's practice between June 2013 to March 2019. All were in general good health and were having lip augmentation for the first time.
The injectors used the outcomes of a survey conducted in 2008 to determine the target lip ratio. The survey, which included 700 participants who viewed photoshopped images of different lips ratios, found that 70% chose the 0.85:1 ratio, 20% the 1:1, and 6% the 0.65:1 as the most attractive.
Related: Revanesse Lips Noninferior to Restylane Silk
All 833 patients were asked to complete a written questionnaire following treatment. The authors evaluated patient results using a GAIS 5-point scale evaluation system. In total, 92.4% of patients marked the results as exceptional, 7.56% as very improved or improved, 0% as no result and 0% as worse.
Read the full paper with the step-by-step technique here.