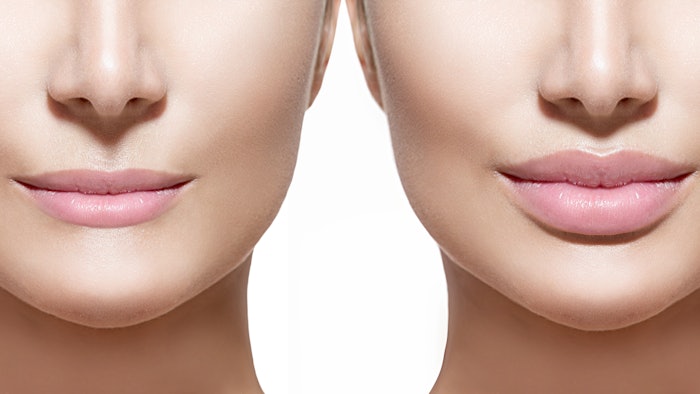 Researchers Patrick Trevidic, MD, et al, have created and validated a 5-grade photonumeric lip fullness rating scale for use in both clinical trials and clinical practice. As published in the Journal of Cosmetic Dermatology (January 20, 2022), the Teoxane Lip Fullness Scale (TLFS) is a proprietary, 5-grade photonumeric scale developed through real subject photographs and validated through both photographic and live subject evaluation. The TLFS can be used to assess aesthetic improvement of the lips after augmentation with dermal fillers.
Related: Researcher Proposes New Lip Injection Technique
The TLFS was developed through a collection of photographs taken from 208 volunteer subjects, who were at least 21 years of age, and included a variety of races and ethnicities, Fitzpatrick skin types and degrees of lip fullness.
The Scale Working Group (SWG) included three clinical experts (two dermatologists and one plastic surgeon) who agreed on the "true value" severity grades of each subject's overall lip fullness, grading them from 1 to 5 (Very Thin to Very Full).
Related: Lip Augmentation Using the Phi Technique
The scale was then validated photographically by a panel of four clinicians (one dermatologist and three plastic surgeons) and in person through two live validation sessions that included 87 subjects assessed by five live evaluators (three dermatologists and two plastic surgeons).
The authors found that "The TLFS was shown to be a repeatable and reproducible Clinician Reported Outcome (Clin-RO) for healthcare providers to classify lip fullness both in clinical trials and in routine patient care."