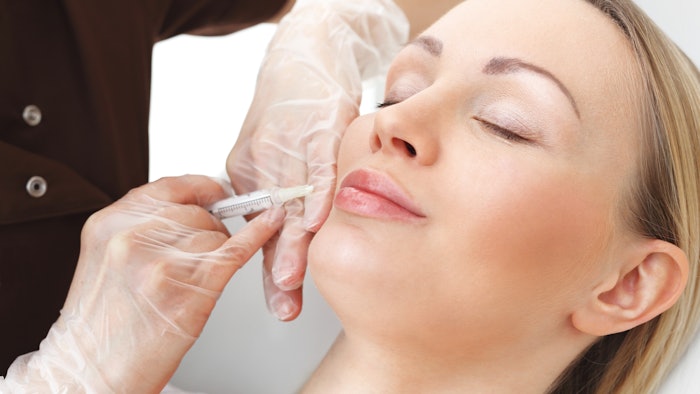 A July 2022 study published in the Journal of Cosmetic Dermatology evaluated the feasibility, safety, and satisfaction level of a lip augmentation procedure combining two anatomical injection plans, two injection modes (i.e., cannula and needle) and two types of hyaluronic acid fillers.
The study, conducted by Stéphane Smarrito M.D., Candice Smarrito-Menozzi Ph.D., MSc, and Florence Brunel MSc, included 30 patients who underwent intramuscular retro-trace injections of Stylage M (Vivacy Laboratories) conducted through a 27-gauge cannula at the level of the upper and lower hemi-lip. Then, intradermal injections of Stylage Lips (Vivacy Laboratories) using a 33-gauge needle were carried out on the entire lip border and the cupid's bow.
Related: Evolus Completes Patient Enrollment for Extra-Strength Glabellar Line Study
During a post-injection follow-up, subjects were asked to evaluate their satisfaction levels and the effect of fillers over time. Elastic (G′) and viscosity (G″) moduli of HA fillers were measured with a rheometer (AR2000, TA Instruments) prior to and after extrusion through a 33-gauge needle.
The rheological assessment showed an overall high patient satisfaction (2.6/3) and there was a long-lasting perception of the effect of the filler. No side effects were observed except for standard post-treatment bruises and edema and no vascular incident occurred. The assessment showed that passage through a 33-gauge needle did not alter the viscoelastic properties of HA fillers.
According to researchers, the study demonstrated that dissociating the anatomical zones of the lip during the injection procedure by means of different hyaluronic acids in the muscular and dermal planes would efficiently and safely provide both lip projection and fullness for a natural and lasting effect.