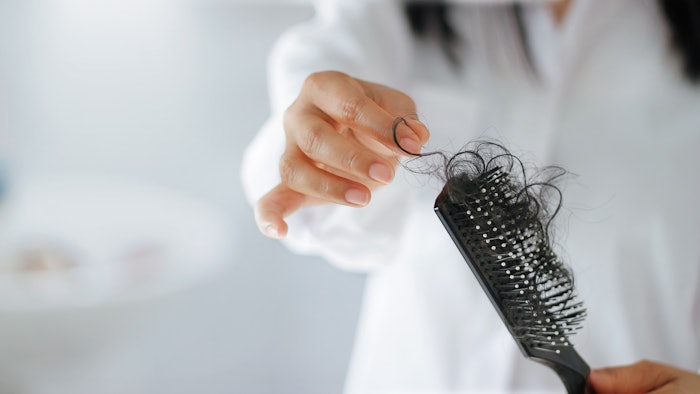 A retrospective study of 3,028 patients with telogen effluvium (TE), published in the Journal of Cosmetic Dermatology (August 27, 2021), investigated patient characteristics, laboratory parameters and treatment strategies to help practitioners diagnose and determine the best treatment modalities for patients with TE.
Related: PRP Injections Spur Hair Regrowth in Females
Ahu Yorulmaz MD, et al, analyzed the electronic records of 3,028 patients with TE. They evaluated demographic and clinical data, as well as serum parameters screening for iron, vitamin B12, vitamin D, folate and zinc deficiencies, thyroid function and antinuclear antibodies (ANA) titers.
In terms of diagnostics, the most frequently performed test type was serum ferritin level (82.3%), followed by complete blood count (81%), both of which revealed that 6.2% of the patients had iron deficiency anemia and 4.6% of the patients had thyroid dysfunction.
Related: Covid Stress is Causing Hair Loss
In screened patients, vitamin and mineral deficiencies were: vitamin D (72.2%), vitamin B12 (30.7%), folate (4.4%) and zinc (2.1%). The authors found that women were more likely to be prescribed vitamin D replacement therapy, while iron replacement was the most frequently ordered treatment, comprising 37.5% of total prescriptions.