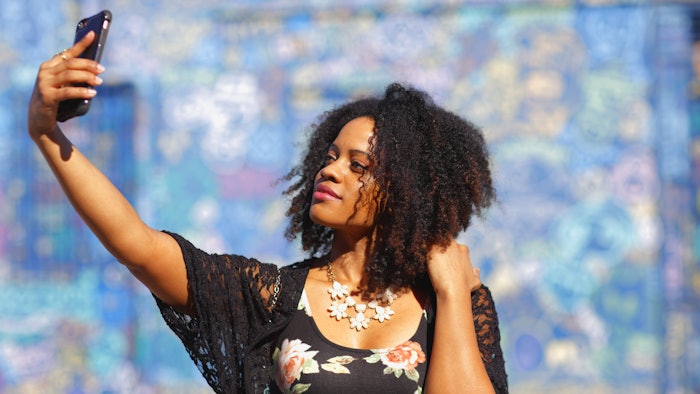 Patients frequently use selfies to discuss their goals with their plastic surgeon, so researchers Mark P. Pressler, MD, Kikaela L. Kislevitz, BSN, RN, MD, Justin J. Davis, MD, and Bardia Amirlak, MD, crafted a study to quantify changes in size and perception of facial features when taking a selfie compared to the gold standard of clinical photography. 
The researchers found a quantifiable change in facial feature size and perception seen in previous camera-to-subject distance studies. Their findings were published in the Journal of Plastic and Reconstructive Surgery (April 2022). 
Related: Cosmetic Patient Evaluation in a Time of Zoom and Selfies
The study included 30 volunteers who each took three sets of three photographs. Two sets of photos were taken at 12 inches and 18 inches with a front-facing smartphone camera (AppleXR), and the third set of three photographs were taken for the clinical photograpy at 5 feet with a digital single-lens reflex camera (Nikon). Participants were instructed to hold a ruler next to their faces, at a facial depth halfway between the tragus and the lateral canthus, to standardize a "life-size" scale used for measurements. 
Participants first looked at their selfies and completed the FACE-Q inventory. Afterward, they filled out he same invetory for their clinical photographs. Measurements were taken of the nose, lip, chin and facial width using Adobe Photosop CS6 Ruler Tool built into the software. 
Related: AAFPRS President Corey Maas, MD, on the Latest Trends in Facial Aesthetics
Nasal length was, on average, 6.4% longer in 12-inch selfies compared to clinical photograph and 4.3% longer in 18-inch selfies compared to clinical photography. The alar base width did not change significantly in either of the selfies compared to the clinical photography.
The alar base to facial width ratio (which represents the size of the nose in relation to the rest of the face) decreased 10.8% and 7.8% when comparing 12-inch and 18-inch selfies to clinical photography, respectively.
Related: Zoom Meetings Boost Patient Interest in Cosmetic Procedures
The authors noted that the quantifiable change measured in facial feature size and perception has also been shown in previous camera-to-subject distance studies. With the increasing popularity of front-facing smartphone photographs, these data allow for a more precise conversation between aesthetic providers and their patients, and provides further data for manufacturers to improve the societal impact of smartphone cameras.