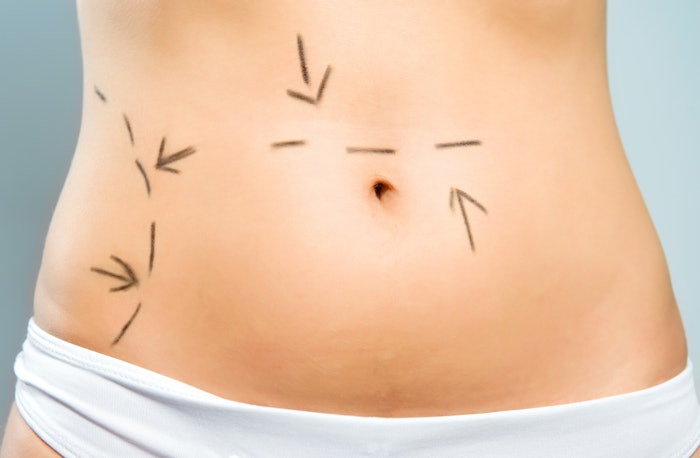 Aesthetic Scale for the Female Abdomen
When it comes to abdominal aesthetic surgical and nonsurgical treatment options, the medical aesthetics industry is aiming more and more at trying to tailor these treatment options to meet individual patient goals. A study published in Plastic and Reconstructive Surgery (September 2022) by Rachita Sood, M.D., M.P.H., et al., analyzed layperson perceptions of what is most aesthetically pleasing when it comes to the female abdomen. The authors then integrated these perceptions to design a professional aesthetic scale for the abdomen.
Related: truSculpt flex: A Body Sculpting Game Changer for Your Aesthetic Practice

The study isolated five domains to focus on, including abdominal muscle line, abdominal shape, skin, scarring and umbilicus. The authors then developed a survey to assess the global and domain-specific aesthetic preference of these five domains. The study received survey responses through Amazon Mechanical Turk from 340 participants.
Final Scale Reliability and Validity
The authors took the survey results and used principal component analysis to establish subquestions within those five primary domains and determine the weight of each within the scale. The finalized scale included 11 subquestions within the five primary domains, including hernia, bulges, semilunar lines, central midline depression, scar, hourglass shape, infraumbilical skin, supraumbilical skin, umbilicus shape, umbilicus medialization position and umbilicus height position. This final scale was used by attending plastic surgeons to rate abdomens.
Related: High-Intensity Focused Ultrasound Reduces Subcutaneous Fat

When compared with global aesthetic rating, the top three weighted components were the central midline depression at 16.1%, semilunar lines at 15.8% and infraumbilical skin at 11.8%. Seven attending plastic surgeons rated the final scale as easy to use, with the results demonstrating it's reliability and strong validity (Pearson r = 0.99).