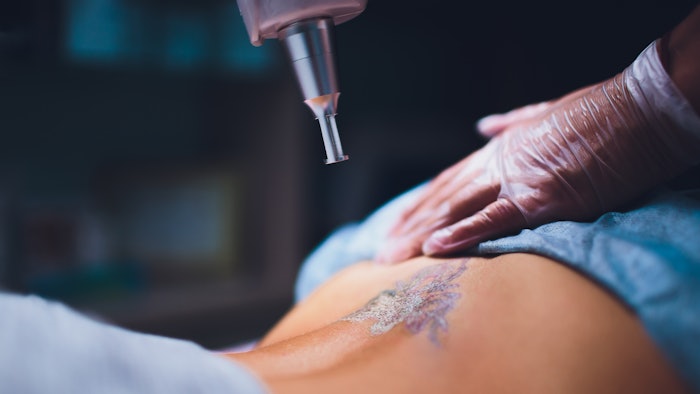 While August 14th may not be a date that every American finds significant, those with tattoos they wish they'd never gotten can certainly appreciate National Tattoo Removal Day. According to a new report by  Advanced Dermatology divulging American's biggest tattoo regrets in 2023, that applies to 1 in 4 people. The survey included responses from 1,002 people spread throughout the U.S., averaging 39 years of age, with 49% identifying themselves as male, 47% as female and 4% as non-binary or transgender.
Related: The Benefits and Risks of Lip Blushing

Tattoo Regret & Removal
The desire to get tattoos starts from a place of love and desire to express ones inner self in a creative and individual manner. According to the report, the top reasons for getting a tattoo are self-expression, aesthetics, empowerment, emotional healing and remembrance. However, that love doesn't always last, and regret inevitably follows. The time it takes for tattoo regret to set in can vary. Nearly half of those tattoo regrets start less than a year after getting a tattoo, with 18% of people regretting their decision mere days later. The remaining 51% started to regret their tattoo two or more years after getting it.
Thankfully, getting tattoos removed is now easier than ever. In fact, 68% of Americans believe that the availability and convenience of tattoo removal technology is a large reason behind more Americans getting tattoos despite the solid possibility of regretting that decision at a later time. Tattoo removal has indeed become increasingly popular, with 51% of people planning on getting at least one tattoo removed, per the report. Of course, this isn't as surprising when you consider 1 in 10 people have tattoos they chose to get for a significant other before they ended up parting ways. Check out the biggest tattoo regrets reported in 2023 below:
Related: Ablative Lasers vs. Non-ablative Lasers for Safely & Efficacy When Treating Skin of Color

Biggest Tattoo Regrets in 2023
Top 5 Tattoos Americans Regret Most:
Lettering/script tattoos
Symbols
Names
Animal designs
Tribal tattoos
Top 5 Reasons Americans Regret Their Tattoos:
Dissatisfaction with how it looks
Simply not liking it anymore
Disappointment in the tattoo artist's work
Loss of connection to the original meaning
Negative impacts on professional opportunities
Top 5 Tattoo Locations Americans Regret:
Forearm
Bicep/Tricep
Chest
Shoulder & Thighs (tied)
Ankle