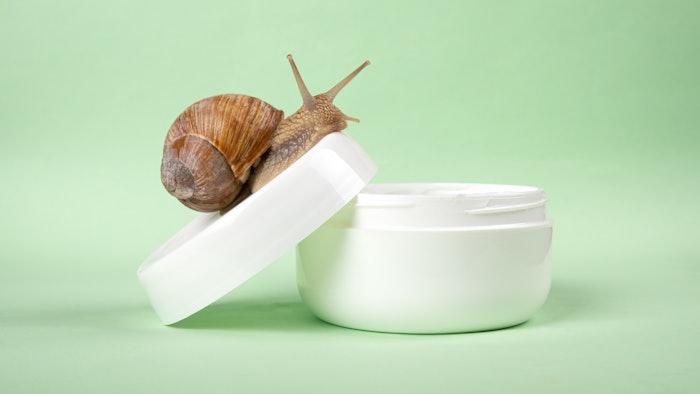 Snail mucin is the gel-like liquid secreted from a snail. It has a number of skin care benefits, including hydrating, plumping skin and smoothing out fine lines and wrinkles in dehydrated skin, according to dermatologist Julie Russak, M.D.
"First and foremost, snail mucin is incredibly hydrating," Dr. Russak said. "It contains a unique combination of hyaluronic acid, glycoproteins and glycolic acid, all of which help to attract and retain moisture in the skin."
Snail mucin also has regenerative benefits and can help soothe the skin with its anti-inflammatory and antibacterial properties. The ingredient is ideal for dry, sensitive or acne-prone skin.
"It contains antioxidants and peptides, which can help protect the skin from free radical damage and stimulate collagen production," Dr. Russak said. "This can lead to firmer, more youthful-looking skin over time."
An April 2013 study in the Journal of Drugs in Dermatology found that snail mucin derived from the Cryptomphalus aspersa snail can protect, heal and repair the skin. The double-blind, randomized, 14-week study included 25 patients with moderate to severe facial photodamage. They were treated with an emulsion and liquid serum that contained snail mucin on one side of the face and placebo on the contralateral side for 12 weeks.
The study found that daily application of topical products containing the secretions proved "effective and well tolerated for improvement in coarse periocular rhytides and fine facial rhytides."1
"Overall, snail mucin is a versatile and effective ingredient that can provide a wide range of skin care benefits," Dr. Russak said.
It is recommended for patients to try a patch test before using any new skin care product with snail mucin to ensure that they are not allergic to it.
Dr. Russak also warns to be aware of the sourcing of snail mucin, as some companies may not obtain the ingredient in ethical or sustainable methods.
"While snail mucin is generally considered safe for most people, there is still a limited amount of research on its long-term effects," Dr. Russak said. "It is always a good idea to talk to a board-certified dermatologist before incorporating any new skin care ingredient into your routine."
The concentration of snail mucin in the product will determine the effectiveness of the product. Dr. Russak recommends products with at least 80% snail mucin for maximum benefits. Since snail mucin can be found in a variety of skin care products, including serums, moisturizers and masks, it is important to choose a product that can seamlessly fit into an existing skin care routine and has a texture that works well with their particular skin type.
"Overall, the best type of snail mucin to use in skin care products is one that is sustainably sourced, contains a high concentration of snail mucin, is free from harmful ingredients and has a texture and formulation that work well for your skin," Dr. Russak advised.
REFERENCES:
Fabi SG, Cohen JL, Peterson JD, Kiripolsky MG, Goldman MP. The Effects of Filtrate of the Secretion of the Cryptomphalus Aspersa on Photoaged Skin. J Drugs Dermatol. 2013 Apr;12(4):453-7. PMID: 23652894.