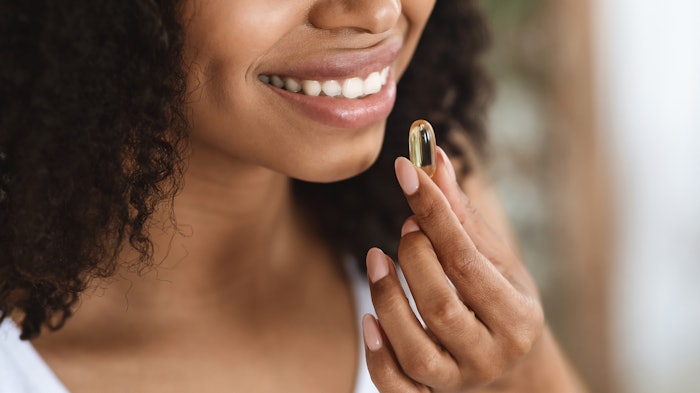 A study published by the Journal of Cosmetic Dermatology (March 2021) evaluated the safety and efficacy of a fish-derived hydrolyzed marine collagen supplement called Vinh Wellness Collagen (VWC) on aspects of skin health and quality in women between the ages of 45 and 60. 
Malkanthi Evans DVM, PhD, et al, led the randomized, triple-blind, placebo-controlled study, which assessed skin wrinkles and elasticity in the participants as well as their self-reported appearance using VISIA skin analysis, Cutometer and Skin Quality Visual Analogue Scale. The outcomes were assessed at baseline, six weeks and 12 weeks after beginning treatment. Participants were included if they were females between 45 and 60 years of age with a BMI of 20.0-29.9 kg/m2 and displayed signs of natural and photoaging on their faces as assessed by a Fitzpatrick questionnaire at screening. All subjects agreed to avoid prolonged exposure to ultraviolet (UV) radiation for the duration of the study. 
After 12 weeks, participants supplemented with VWC had a 35% reduction in wrinkle score from baseline (a 24% greater reduction than those on placebo). A planned subgroup analysis based on age showed women 45 to 54 years of age had a 20% and 10% improvement in cheek skin elasticity from baseline to week 6 and 12, respectively. At week 12, participants in the VWC group reported a greater precentage of improvement in overall skin score (9%) and wrinkle (15%), elasticity (23%), hydration (14%), radiance (22%) and firmness (25%) scores versus the placebo group. 
Supplementation of VWC was safe and well-tolerated among participants. 
Read the full study here.