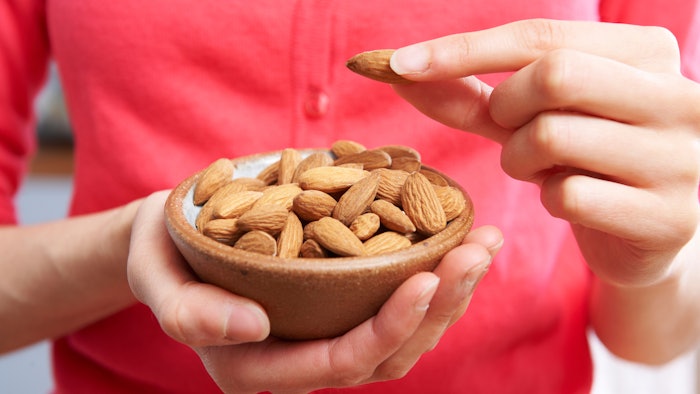 To investigate the effects of almond consumption on signs of photoaging, such as wrinkles and pigment intensity, as well as facial biophysical parameters, such as sebum production, skin hydration and water loss, researchers performed a prospective, randomized controlled study that assessed the skin of postmenopausal women who consumed 20% of their daily enregy consumption in either almonds or a calorie-matched snack. This was published in the Journal of Phytochemicals and Human Health (February 27, 2021).
The subjects were either Fitzpatrick skin types I or II. Researchers used a facial photograph and image analysis system to obtain standardized high-resolution photographs and information on wrinkle width and severity at zero, eight, 16 and 24 weeks. Measurements of transepidermal water loss (TEWL), skin pigmentation, skin hydration and sebum production were also completed at each vist. 
The average wrinkle severity was significantly decreased in the almond intervention group at week 16 and 24 in comparison to the baseline group (15% and 16%, respectively). Facial pigment intensity decreased 20% in the almond group at week 16, which was maintained through week 24. Researchers found no significant difference in skin hydration or TEWL when comparing the two groups, but sebum excretion was increased in the control group.