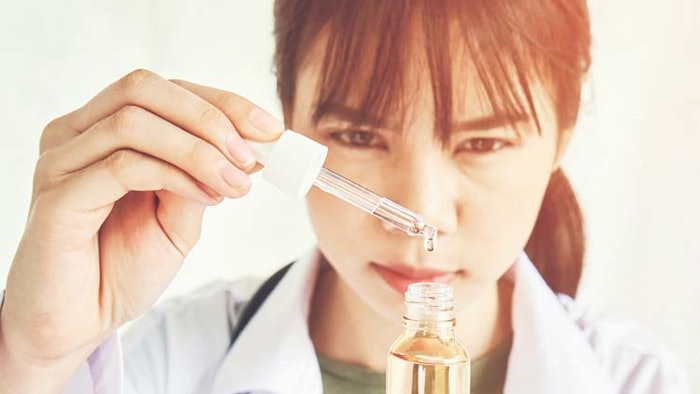 A recent paper published in Clinical, Cosmetic and Investigational Dermatology shows how a plant-derived complex activates PPAR-α in human skin explants. Activating this mechanism could be as big a breakthrough as retinoids, Simon Craw, Ph.D., of Rodan + Fields reported during the Beauty Accelerate 2021 virtual event.
According to the open access article, peroxisome proliferator-activated receptors (PPARs) govern epidermal lipid synthesis and metabolism. In skin, their activation has been shown to regulate genes responsible for permeability barrier homeostasis, epidermal differentiation, lipid biosynthesis and inflammation. In this study, the authors sought to identify a naturally derived multi-molecule complex to modulate PPAR-α by cooperative or multi-ligand binding interactions.
See related: Rodan + Field's Total RF Serum Targets All Signs of Aging
An ayurveda-inspired complex was developed comprising Pterocarpus marsupium (Indian kino) bark extract standardized in trans-pterostilbene, a Santalum album extract standardized in xymenynic acid, and a mixture of glyceryl linoleate/glyceryl linolenate esters in specific ratios. Its potential was evaluated via transcriptional response, ligand-binding affinity to PPAR-α, gene expression profiles and barrier repair properties in human skin explant models.
Results indicated the complex successfully acted as a PPAR-α agonist and induced the synthesis of skin barrier lipids consistent with known PPAR-α pathways.
In relation, Simon Craw, Ph.D., senior director of business development for Rodan + Fields and co-author on the study, presented this mechanism as an approach to create products for stronger, healthier more resilient skin during the 2021 Beauty Accelerate virtual event, held Oct. 18-21, 2021. "I think PPARs are on a level with retinoids, once the industry fully understands and appreciates them," he said.