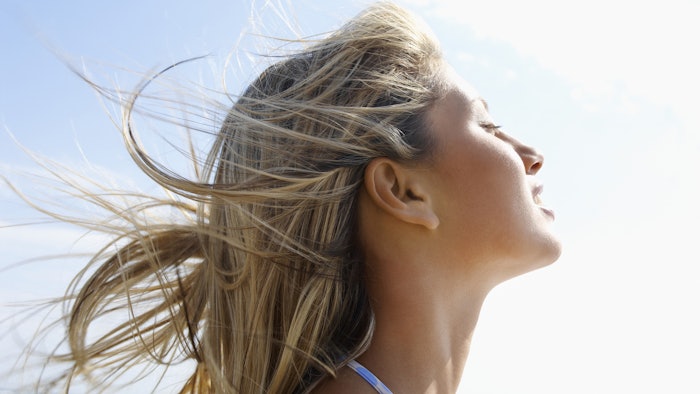 Patients with rosacea can experience flareups due to a variety of triggers, including heat, alcohol, spicy foods and exposure to ultraviolet (UV) radiation. To better understand the role of UV exposure and sun protection products in the treatment of rosacea, Daniel Morgado-Carrasco, MD, Corinne Granger, MD, Carles Trullas, MSc, and Jaime Piquero-Casals, MD, conducted a narrative review of the literature. Their findings were published in the Journal of Cosmetic Dermatology (November 2021).
Related: Rosacea Patients Report Masks Worsening Their Symptoms
The researchers searched PubMed from January 1990 to November 2020 using the keywords "rosacea", "pathogenesis", "ultraviolet radiation", "exposome", "photoprotection", "sunscreens" and "non-pharmacologic agents."
Related: National Rosacea Society Introduces Updated 'Understanding Rosacea' Booklet
The review confirmed that several environmental factors, such as UV light, diverse microorganisms, air pollution, tobacco smoking, nutrition and psychological stress have been shown to trigger or worsen rosacea. UV radiation was reported to induce pro-inflammatory, pro-angiogenic and pro-fibrotic responses and may even initiate rosacea.
Related: RF Reduces Vessel Density and Inflammation in Rosacea-prone Skin
The six original studies they reviewed on the impact of sunscreens on rosacea found that the use of sunscreens containing ingredients with emollient, anti-inflammatory and/or vasoregulatory properties significantly improved symptomatology.
The authors concluded that, "Adequately formulated sunscreens could not only provide the required level of photoprotection, but may also help to mitigate the barrier dysfunction, neutralize facial redness (tinted sunscreens), and decrease inflammation and vascular dysfunction."