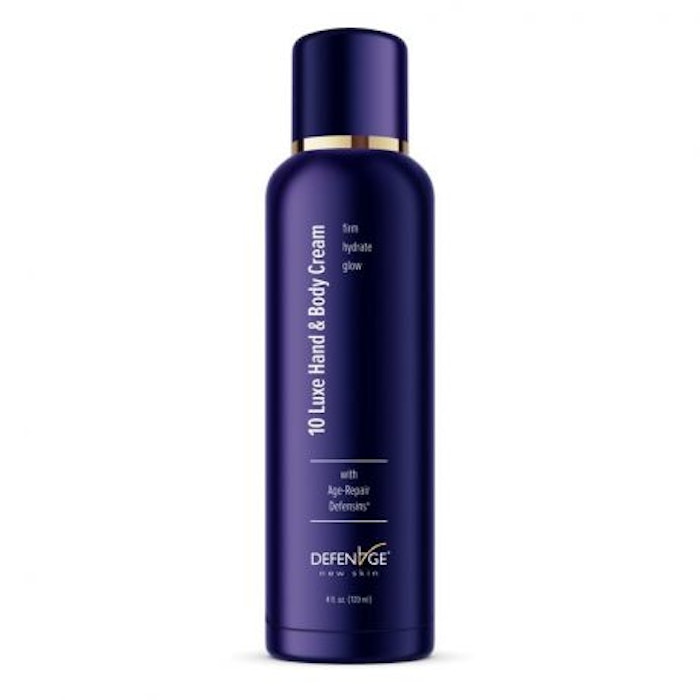 Photo courtesy of DefenAge
DefenAge Global Anti-aging Skin Care
DefenAge Skincare announced the result of a new comprehensive clinical study of the line's 10 Luxe Hand & Body Cream with Age-Repair Defensins. 
Propiertary to DefenAge, Defensin-molecules are capable of reactivating latent LGR6 stem cells in the basal layer of the skin. The study, entitled the "Impact of Defensins-Containing Body Cream on Skin Composition" and was published by the Journal of Cosmetic Dermatology. It concluded that when applied topically, these molecules can visibly reduce signs of aging (including loss of hydration and elasticity) and increase skin thickness. 
After one year on the market, the 10 Luxe Hand & Body Cream was recently named "Best-in-Class Body" by Good Housekeeping's Beauty Awards. 
Related: New HA Filler for Nasolabial Wrinkles Improves Feeling of Naturalness
Clinical Study Confirms Results
The Journal of Cosmetic Dermatology study confirmed the affective performance of the multi-pillar formulation, which addresses all key areas of caring for body skin, including global anti-aging via defensive-molecules, repairing the skin moisturization barrier and hydration and reducing inflammation. 
"Use of a Defensin-containing topical body cream resulted in the dramatic improvement in multiple skin qualities on challenging body areas including the hands, forearms, elbows and knees," said clinical investigator and principal author of the article, Kristen Echanique, M.D. "Study participants also reported subjective improvements in dryness and discomfort, and in the appearance of the skin's roughness, wrinkling, redness, age spots and pigmentation."
In this open label, single arm clinical study, subjects reported significant improvement across all subjective skin domains and objective measurements demonstrated improvement in cosmetic skin architecture, including visible improvement in elasticity, hydration and appearance of skin thickness when the body cream was applied daily for six weeks.