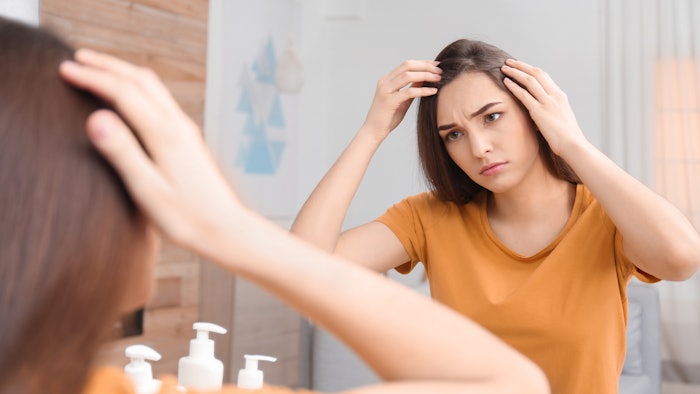 Hair loss is at the forefront of medical aesthetics and companies are trying to capitalize on the trend with new breakthrough products and devices. With increased consumer awareness, the market for hair loss products continues to expand.
According to a market report from Research and Markets, the total prevalent cases of Alopecia are expected to increase by 2032, with more than 700,000 cases in 2022. The diagnosed cases of Alopecia areata were around 435,000 in the U.S. in 2022. Patchy-type Alopecia accounted for the most cases while beard Alopecia areata accounted for the least. There were around 592,000 cases in patients younger than 40 years old, while patients older than 40 accounted for 113,000 cases in the United States.
Related: Happy Head Designs FDA-Approved Capsule to Treat Hair Loss
In 2022, the U.S. had a market size of $110 million and the market size is expected to undergo a significant shift by 2032. Topical steroids generated the largest revenue, around $60 million. Systemic steroids accounted for the second largest revenue share, around $22 million in 2022.
Olumiant (baricitinib), a common alopecia drug, is an oral, selective, reversible inhibitor of JAK1 and JAK2 that works inside the body by disrupting the cytokine signaling pathway involved in the Alopecia areata. Data from the two pivotal Phase III clinical trials cited by Research and Markets detailed in the market report showed that patients who received Olumiant achieved significant hair regrowth, resulting in more scalp coverage and eyebrow and eyelash improvements.
Other drugs identified in reports that are in the process of being developed and tested include AMP-303, CTP-543 (deuruxolitinib) and PF-06651600 (ritlecitinib) and Revian Red. 
First-in-Human Study
Revian Red Hair Growth System will conduct another study, its first-in-human study of AMP-303, in June 2023 to build on previous trial results as an effective treatment for Central Centrifugal Cicatricial Alopecia, a form of scarring hair loss that predominately affects middle-aged African women. The condition has no known cure and can cause permanent hair loss. The device is a wireless cap that uses dual-wavelength LED technology and is controlled by a mobile app. It uses a dual combination of 2 LED wavelengths to stimulate the production and release of nitric oxide.
Subjects will use the Revian Red system once daily for 10 minutes for a total of 6 months. Investigators anticipate that the data and measurements from this study will contribute to the design of a larger, randomized clinical trial in the future.
The primary objective is to evaluate the safety and tolerability of AMP-303 along with an assessment of hair count in subjects with androgenetic alopecia. The study is a multicenter, randomized, double-blinded and placebo-controlled study that will enroll male subjects across three groups: subjects with recent onset of hair loss (defined as a history of hair loss of 3 to 5 years), subjects with established hair loss (defined as a history of hair loss more than 10 years); and subjects who have undergone a hair transplant procedure. The first subject was dosed on June 27, 2023, and the study is expected to be completed in the first quarter of 2024.
More: Oral Minoxidil is Gaining Popularity as an Alternative Hair Loss Treatment