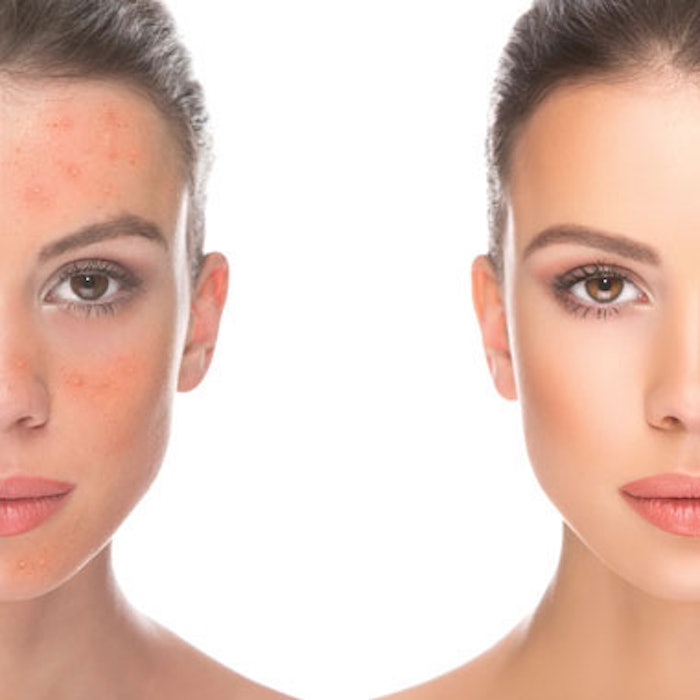 About 16 million people struggle with rosacea symptoms, ranging from diffuse redness and skin sensitivity to red blotches, visible blood vessels, papules and pustules. Yet, with no cure in sight, dermatologists must draw on their knowledge of the available topicals, devices, oral medications and lifestyle behaviors to relieve rosacea symptoms.
Research is slowly uncovering factors associated with the four subtypes of rosacea—erythematotelangeictatic, papulopustular, phymatous and ocular. But medical researchers have yet to pinpoint the skin condition's direct cause. "We've found that inflammatory cytokines play a major role in rosacea," says Jeannette Graf, MD, a Great Neck, New York-based dermatologist and assistant clinical professor of dermatology at Mount Sinai Medical Center in New York.
Yamasaki and Gallo first proposed the role of cytokines in rosacea in the Journal of Dermatologic Science (August 2009). In 2011, Peter Arne Gerber and colleagues from the University Hospital Dusseldorf and the University of California San Francisco published a literature review in an effort to characterize the cytokine and chemokine network that orchestrates the inflammatory response behind the characteristic features of rosacea (Journal of Investigative Dermatology Symposium Proceedings). Unfortunately, they concluded that more research is needed.
Until a cause and/or a cure are discovered, doctors can take steps to help patients find relief.
Getting the Red Out
Diffuse facial redness, or erythema, is one of rosacea's most common symptoms. To treat facial erythema in adults, Doris Day, MD, owner of Day Dermatology & Aesthetics in New York City, uses Mirvaso Gel 0.33% (brimonidine). The new topical from Galderma Laboratories was approved by the FDA in August 2013.
Image copyright istockphoto.com
[pagebreak]
"Most patients are very happy with the drug," says Dr. Day. "I love having something that helps with the distressing redness—even if it is a temporary fix."
In January 2014, Galderma released the results of long-term study of Mirvaso, showing that the gel worked safely and consistently to reduce erythema from day 1 though 12 months with no evidence of tachyphylaxis.
"The drug begins to lessen redness in 30 minutes, peaks in about six hours and wears off within about 12 hours," says Dr. Day. "Because the active ingredient (brimonidine) is a vasoconstrictor, it must be applied evenly or streaking and blotchiness may occur."
She makes sure to carefully explain to patients how to properly apply the gel. "There is a learning curve when it comes to application, so I tell patients to first use it on a day when they plan to stay home or when their appearance is not critical. Men, who typically don't use makeup, need to know how their skin color will appear when the redness is gone. Women can wear makeup if their skin turns too white after Mirvaso takes effect."
Dr. Day also warns patients about the possibility of rebound redness when Mirvaso wears off at the end of the day. "Rebound can last hours or days and occurs in up to 10% of patients, although no hard data is available on the exact incidence," she says.
She gives patients a one-week trial sample to test their reaction to the drug. "Some patients who get rebound treat through it and keep using Mirvaso without issue, but others could not tolerate it," she says. "I suggest having a mild cortisone preparation and antihistamine on hand just in case."
[pagebreak]
Victoria Cirillo-Hyland, MD, owner of Cirillo Cosmetic Dermatology Spa in Bryn Mawr, Pennsylvania, also successfully prescribes Mirvaso. "It's a great vasoconstrictor for blood vessels. It stimulates alpha-2 andrenergic receptors to reduce redness through direct vasoconstriction. Some of my patients tell me they had to use blush for the first time in years," she says, noting that she has not found rebound redness to be a problem.
Although Mirvaso is the newest topical to come to market, physicians have been using—and continue to offer—a variety of other topicals, to reduce flushing, including azelaic acid and metronidazole.
"For diffuse redness, I prescribe metronidazole (Noritate MetroCream, Dermick Laboratories or Galderma MetroGel) or Finacea (azelaic acid, Bayer Healthcare), and more recently, Mirvaso," says Dr. Graf. "The problems with treating patients with these prescription drugs are cost and getting the drugs covered by insurance. We can spend half an hour on the phone with an insurer getting an OK to prescribe a drug like Mirvaso, only to find that it still costs the patient $350! MetroGel comes in two percentages, and we've found that some insurance policies will cover one of the percentages but not the other. This is a very real problem for patients."
Light-Based Therapies
Lasers and light-based devices are also used to treat redness and the defined telangeictasia of rosacea. Dr. Graf uses IPL for diffuse redness. "Clearance often requires several treatments over the course of a month, but IPL works beautifully," she says.
"I use Alma Lasers' pulsed light to decrease redness," says Dr. Cirillo-Hyland. "The new Harmony Dye V-L handpiece is the most effective one I have ever used for the diffuse redness of rosacea and well-defined facial telangiectasias. It has a cut-off filter so only wavelengths between 500nm to 600nm are transmitted (great absorption by hemoglobin). It works as well as a pulsed-dye laser in my hands. And there's no purpura."
[pagebreak]
Dr. Cirillo-Hyland also uses a 532 KTP laser for the well-defined facial telangiectasias. "Additionally I have found that the Photomedex Omnilux Revive (633nm) LED light helps reduce inflammation. We suggest two treatments per week for five weeks," she says.
Hema Sundaram, MD, owner of Sundaram Dermatology, Cosmetic & Laser Surgery Center in Rockville, Maryland and Fairfax, Virginia, prefers elos technology by Syneron for redness and telangiectasia. "It works with all skin types and combines bipolar radiofrequency and light energies to precisely target and heat unwanted veins. Another of my favorites is the Alma AFT, which offers different wavelengths and integrated cooling," she says.
But cost is an issue as laser and light treatments typically are not covered by health insurance.
Home Care Recommendations
Rosacea causes skin sensitivity and impaired barrier function. Physicians can help patients control these symptoms by steering them toward a gentle home skincare regimen.
"My top treatments are aimed at normalizing the skin barrier and reducing inflammation," says Dr. Sundaram. "Appropriate cleansers are very important. I use Biopelle PRESCRIBEDsolutions Surface Improvement with jojoba beads boosted with Rosacea Control Booster—which contains arnica and goji berry extracts and allantoin—or Anti-Inflammatory Booster with oat, willow herb, green tea and onion extracts and allantoin. These not only cleanse but also reduce inflammation. Another option is SkinMedica Sensitive Skin Cleanser."
Dr. Sundaram also recommends a gentle daily moisturizer. "Since I believe the root cause of rosacea involves impaired barrier function with resulting dry, sensitive skin, adding hyaluronic acid makes sense to me," she says. "RHA (resilient hyaluronic acid) Skincare System from Teoxane Laboratories in Switzerland (distributed by Alphaeon in the U.S.) has an unsurpassed humectant effect."
[pagebreak]
To further improve skin hydration, she is testing the new Deep Impact device from Alma Lasers. "I use it to drive hyaluronic acid moisture into the skin. So far I've tested only a few patients but the results are promising," says Dr. Sundaram.
Dr. Graf's approach is very different. "Sun exposure is the No. 1 cause of rosacea flare-ups," she says. "Someone who has rosacea should be on a retinoid, because it is the best treatment we know for photodamaged skin. First, though, you must get the condition under control. And you don't start with tretinoin, which can be very drying. The retinoid I recommend depends on the severity and type of rosacea."
Both Dr. Sundaram and Dr. Graf stress daily use of an effective sunscreen for rosacea patients. "My favorite is Colorescience Sunforgettable Mineral Sunscreen Brush, which comes in 30, 35 and 50 SPF," says Dr. Sundaram. "Its highly refined minerals contain no added chemicals, which means the product is less likely to irritate skin. The minerals themselves can actually have an anti-inflammatory effect. The brush applicator is a major advantage for women because they can reapply sunscreen throughout the day without having to redo their makeup."
Dr. Graf also likes Oxygenetix, a post-procedure breathable foundation designed to cover and treat skin problems, including rosacea. "It offers good coverage and is soothing," she says. "I also recommend moisture barrier reparative creams such as Eau Thermale Avéne products for rosacea and sensitive skin, and the Epionce line."
Addressing Papules and Pustules
"For moderate to severe rosacea with numerous pustules and papules, Dr. Cirillo-Hyland prescribes a sulfacetamide/sulfur cleanser, such as Avar (Mission Pharmacal), Plexion (Medicis/Valeant), Rosanil (Galderma) or Rosula (Doak Dermatologics). These contain an antibacterial/anti-inflammatory agent as well as a drying agent, which promotes keratolysis," she says. "I prescribe Finacea Gel, which decreases the redness and papules and pustules, and MetroGel 1% which is antibacterial and anti-inflammatory. I add ORACEA (low-dose doxycyline, Galderma) or a higher dose doxycycline if the outbreak is really severe. I may also add topical dapsone (Aczone, Allergan), which works well for inflammatory acne and more severe rosacea."
[pagebreak]
Adds Dr. Graf, "Diet also plays a role. Patients have to learn what triggers their outbreaks and how to avoid stress as well."
On the Horizon
Ivermectin 1% Cream (Galderma) just completed phase 3 clinical trials with exciting results published in the March 2014 issue of the Journal of Drugs in Dermatology.
"Ivermectin is a new way of approaching the topical treatment of rosacea," says the study's lead author, Linda Stein Gold, MD, director of dermatology clinical research at Henry Ford Hospital in Detroit. "It has two mechanisms of action—anti-inflammatory and antiparasitic. It has been shown to inhibit pro-inflammatory cytokines and to decrease the numbers of Demodex mites."
She explains that the exact role of Demodex in rosacea is not known, but it is thought that the mites—or the bacteria associated with them—may trigger the immune response that leads to rosacea.
The multicenter, randomized, double-blinded study involved more than 1,200 patients with moderate to severe rosacea symptoms. "We applied the topical once a day for 12 weeks," says Dr. Stein Gold. "The response was fairly rapid improvement in inflammatory lesions, and at the end of the 12 weeks 38% to 40% [of patients] were clear or almost clear of lesions. This effect and the rapid improvement were surprising to me, as Demodex mites are thought of as playing a more peripheral role in rosacea."
Additional studies are now being conducted in Europe: one comparing Ivermectin to a metronidazole topical; another is following patients to find out what happens when they discontinue the drug.
[pagebreak]
Dr. Cirillo-Hyland has had limited experience with topical Ivermectin—two refractory cases—but the results were positive. "I will likely add topical Ivermectin to more refractory cases of rosacea going forward," she reports. "It seems that the innate immune system of patients with papulopustular rosacea is somehow triggered by Demodex. Why normal skin fauna would do this is not clear and needs further study."
Other drugs currently being investigated as rosacea treatments include oxymetazoline (Allergan), another vasoconstrictor; DRMO2 (Dermitra), an anti-inflammatory comparable to topical calcineurin inhibitors; and anatabine (Rock Creek Pharmaceuticals), an alkalid found in the family of plants that includes tobacco, which has been shown to modulate proinflammatory signaling pathways.
Linda W. Lewis is the contributing editor of MedEsthetics.