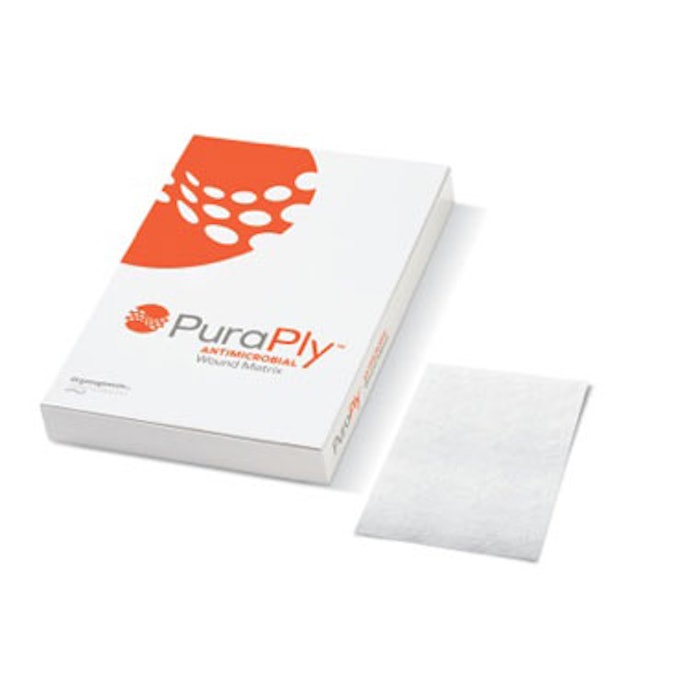 Regenerative medicine company Organogenesis launched its new PuraPly purified collagen matrix wound management products at the 2015 American Podiatric Medical Association (APMA) Annual Meeting. The product line includes PuraPly Antimicrobial (PuraPly AM), the first purified collagen matrix with polyhexamethylene biguanide hydrochloride (PHMB) antimicrobial agent approved by the U.S. Food and Drug Administration (FDA).
PuraPly and PuraPly AM are FDA 510(k)-cleared Class II medical devices approved for acute and chronic wound management across a variety of wound types, including partial- and full-thickness wounds, pressure ulcers, surgical wounds, trauma wounds, and venous and diabetic ulcers. When used within the first four weeks of treatment, PuraPly creates an optimal healing environment for wounds of varying depths. PuraPly AM combines purified collagen with PHMB to provide broad antimicrobial coverage and protect against a wide range of bacteria. Both products are available in a range of sizes to accommodate a variety of wound types.
For more information, visit www.organogenesis.com.
Photo courtesy of Organogenesis.