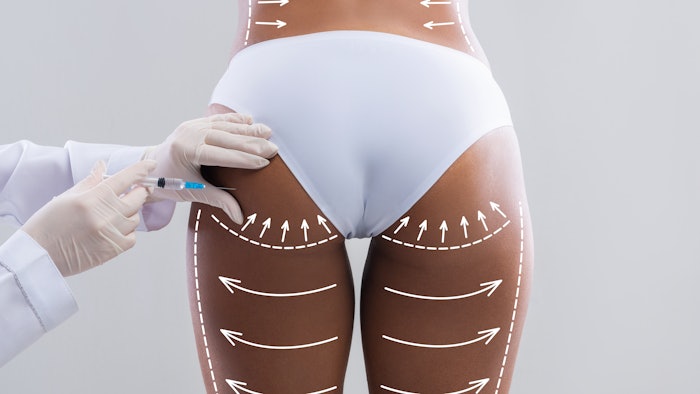 The Brazilian butt lift (BBL) is the most in-demand cosmetic surgery in America, according to average monthly search data analyzed by medical experts at med.ro. BBL was the most searched procedure, while the east coast, specifically Delaware, Rhode Island and Maryland, had the states most interested in plastic surgeries.
The experts at med.ro compiled a list of cosmetic surgeries combined with either "price," "near me," "surgery," "surgeon," and "cost" to discover their total monthly search volume on Google. The east coast took the crown for the region most interested in plastic surgery, with states in that region making up the top five. Delaware was the most interested in plastic surgery, with 308 cosmetic surgery-related searches for every 100,000 people each month. Rhode Island had an average of 301 cosmetic surgery searches monthly for every 100,000 people. Maryland, in third place, had 299 searches for every 100,000 people. Virginia and Georgia wrapped up the top five with 289 Google searches a month for every 100,000 residents and 287 monthly searches per 100,000 residents, respectively.
Related: 10 Factors to Discuss with Patients Considering a Breast Enhancement or BBL
The top five most searched procedures include BBL, tummy tuck, hair transplant, liposuction and nose job, but BBL dominated the competition. In Illinois, for example, BBL had an average of 10,265 average monthly searches, more than twice the number of abdominoplasty (aka tummy tucks) average monthly searches. In Texas, BBL and tummy tuck were also the two most searched procedures, but BBL had almost three times as many searches as tummy tuck.
Here is a breakdown of the top 5 most searched cosmetic surgeries in Illinois and Texas:
Illinois:
BBL - 10,265
Tummy Tuck - 4,693
Hair Transplant - 3,477
Liposuction - 3,053
Nose Job - 598
Texas:
BBL - 25,450
Tummy Tuck - 10,963
Hair Transplant - 6,862
Nose Job - 6,830
Liposuction - 1,548
BBL
Considered one of the fastest-growing cosmetic procedures in the world, Brazilian butt lifts can help clients achieve the desired shape and proportion of their buttocks, contributing significantly to the overall desired proportion of their bodies. Per a survey by the International Society of Aesthetic Plastic Surgery, the number of BBLs performed globally increased by 77.6% from 2015 to 2021.
There have been industry concerns about the dangers of BBLs compared to other cosmetic surgeries. Data from May 2020 in the International Open Access Journal of the American Society of Plastic Surgeons showed that the mortality risk of BBLs was 1 in 14,921 in 2019, and 1 in 20,117 in 2020, higher than the reported 1.3 in 50,000 mortality rates for liposuction procedures.
Florida's House and Senate recently passed the state's first plastic surgery bill, HB 1471, mandating the use of ultrasound guidance during gluteal fat grafting procedures to improve patient safety. As of July 1, 2023, Florida physicians who perform gluteal fat grafting must use ultrasound guidance to ensure fat is only being injected into the subcutaneous space, and physicians do not accidentally inject deeper, resulting in fat being inserted into the muscle.
Tummy Tuck
A tummy tuck is a cosmetic surgical procedure to improve the shape and appearance of the abdomen. During a tummy tuck, excess skin and fat are removed from the abdomen. Connective tissue in the abdomen is tightened with sutures as well. The procedure is particularly popular with those who have experienced significant weight loss or have been pregnant, as it can help your figure to regain shape and appear more toned, according to med.ro's report.
Hair Transplant
Hair loss is currently a huge topic in medical aesthetics, with hair transplants being one of the most effective solutions. This procedure involves taking hair that is already in other areas and moving it to areas that are balding or have no hair. Other popular hair loss solutions include topical minoxidil, as well as low-dose oral minoxidil supplements.
Happy Head SuperCapsule is an all-in-one, daily capsule that is designed to treat hair loss with the strongest FDA-approved prescription medicine and essential hair vitamins. The key ingredients of the supplement include Finasteride, Minoxidil and vitamin D, which are clinically proven to increase hair growth. 
Liposuction
Liposuction is a fat removal surgery that uses suction to remove fat from various areas, including the stomach, the hips, the neck, and more. According to the report, the procedure is typically used to get rid of stubborn fat that is difficult to get rid of despite exercising and sticking to a healthy diet. While those who undergo the procedure will experience moderate pain in the first two days post-surgery, recovery is considered relatively easy.
Despite being a popular cosmetic procedure, many people are still seemingly unaware of the full range of benefits that liposuction can offer individuals of various body types, shapes and sizes. From improving physical appearance to boosting self-confidence, the transformative effects of liposuction can positively impact one's overall mental and physical well-being.
Nose Job
Rhinoplasty is a nasal reconstruction procedure commonly referred to as a "nose job." The type of plastic surgery is commonly used to resolve nasal injuries, trauma, birth defects, breathing problems and failed primary rhinoplasties. It is considered major surgery and typically involves discomfort, pain and significant downtime post-procedure.. Part of the popularity for rhinoplasty, and all of the surgeries on this list, stems from many celebrities and influencers acknowledging that they've had cosmetic procedures.