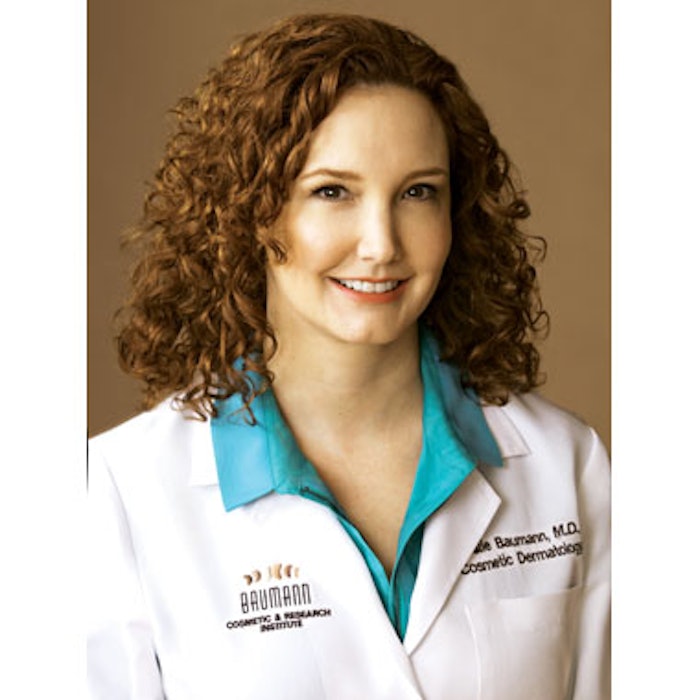 The Skin Type Solutions (TSTS) Franchise System introduced by Leslie Baumann, MD, at the 2015 Annual Meeting of the American Academy of Dermatology (AAD) in March 2015 is a turnkey skincare retail concept designed to help physicians reap maximum patient satisfaction and profitability with minimal overhead, inventory and effort.
Dr. Baumann began researching skincare science more than 15 years ago at the University of Miami's Miller School of Medicine and later at the University of Miami Division of Cosmetic Dermatology, which she founded. The chain of events that led to TSTS Franchise System began with the publication of her best-selling book The Skin Type Solution in 2006.
In the book, Dr. Baumann identifies 16 unique skin types, starting with four major categories based on sensitivity and degree of oiliness, and then subdivided into four more subtypes based on pigmentation and texture. Readers can complete a questionnaire that helps them identify their own distinctive skin type. This questionnaire is the basis of the franchise system.
"Our goal is to improve doctor/patient communication when it comes to skincare," says Dr. Baumann. "Improved communication will lead to improved outcomes, because getting patients to use appropriate products consistently is key. Most doctors don't have the time to go through the process of skin typing the patient and finding appropriate products. That was the reason for developing this turnkey operation."
Patients take a computerized quiz to establish their skin type. The doctor checks the recommendations made by the program and sales are completed by the esthetician or front desk staff.
"We train someone in the practice, often an esthetician, on the science of skincare products," says Dr. Baumann. "We have 11 training modules available online and follow those with quarterly training updates and Q&A opportunities."
During her research career, Dr. Baumann has worked with 56 skincare companies and has tested many of the well-known products on the market. "What we have done is sort through existing products to find those with the best results for specific skin types," she says. "The best eye cream may be from one company while the best cleanser and moisturizer may be from two others. We then test the products in combinations, which the companies would never do, of course, to come up with product groups that can be used together successfully to meet the needs of patients with specific skin types."
The franchise system includes about 30 core products from 12 skincare brands and features a range of price points. "We offer a variety of cleansers and moisturizers to meet the different skincare needs and practice differences," says Dr. Baumann. "In addition, practices working with the system can suggest products they would like to include. If the ingredients are promising, we will test them and consider including them in our inventory."
One key benefit for practices is the ease of ordering and limited inventory requirements. "To get the skin-type appropriate products we recommend, the practice manager would have to order from as many as 12 different companies. Since each company would have its own minimums, the inventory required would be huge," says Dr. Baumann. "We buy for a large number of practices and get volume discounts. We ship only what the practice needs, and the administrator has to make only one call to reorder all of the brands that office carries."
Linda W. Lewis is the contributing editor of MedEsthetics.