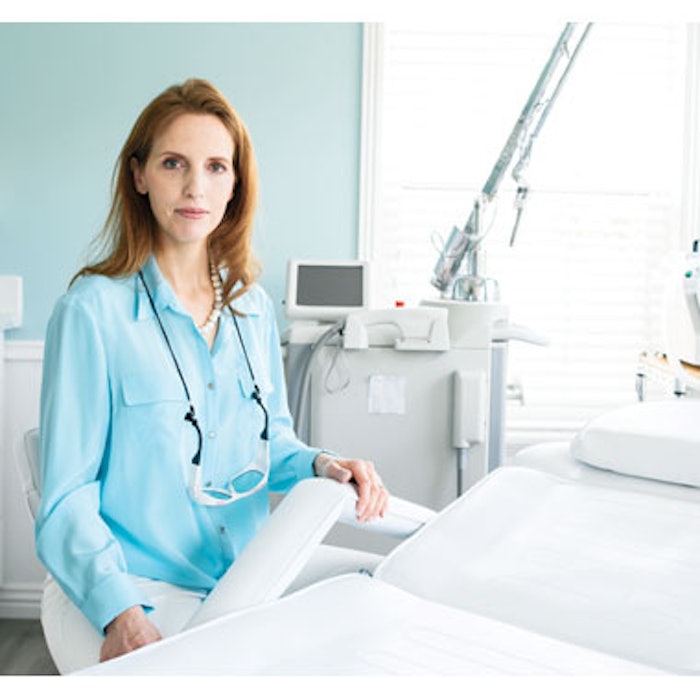 As one of eight children raised by a single mother, Cheryl Lee Eberting, MD, observed firsthand her mother's tenacity as she built a successful physician-focused insurance brokerage in the state of Washington. "When I was a teenager, I remember her coming home one day and saying, 'You should be a dermatologist,' because she insured a group of female dermatologists who clearly had great work-life balance, and that was the bug that was planted in my ear at the time," says Dr. Eberting.
Despite a strong interest in medicine—and her mother's encouragement to pursue that goal—Dr. Eberting struggled with the decision to become a doctor, largely because her religion, Latter Day Saints, stresses the importance of motherhood. "In fact, I tried to avoid being a doctor and ended up changing my major at Brigham Young University four times from international relations to Japanese, then nursing to international business and finally human biology, all while trying to find something I preferred over medicine," she says. "Obviously, I never found it."
Eventually, it was her older brother who sealed the deal when he said to her, "Look, you can be 12 years older, or you can be 12 years older and a doctor. You might as well just be a doctor." The sentiment clicked and she applied to medical school.
Mentors Who Made a Difference
During medical school at the University of Utah, Dr. Eberting drifted first toward rheumatology and the challenge of autoimmune disease. "I thought I wanted to be a rheumatologist because I was—and still am—very interested in autoimmune disease," she says. "However in medical school I found that dermatology was indeed my greatest love."
She did two years of residency at Roger Williams Medical Center, a Boston University-affiliated program in Providence, Rhode Island, and met her husband at the airport the day she moved there. Later, she did a clinical fellowship at the National Institutes of Health (NIH).
There are two special mentors Dr. Eberting credits with helping her become the woman and doctor she is today: Sancy Leachman, MD, PhD, and Maria L. Turner, MD. "I worked in Sancy's lab during medical school at the University of Utah. She is one of the most altruistic human beings on the Earth in addition to being incredibly intelligent, driven, and motivating to everyone around her," says Dr. Eberting. "Sancy used to stay in her lab late at night mentoring me (even though she had a new baby) and helping me polish my presentations for the rest of the department, just so I would look good and feel confident."
Dr. Turner ran the dermatology consult service at NIH, and Dr. Eberting groveled to get the opportunity to rotate with her during her second year of residency. "I had such an incredible time that Maria invited me to come and do a clinical research fellowship the next year in lieu of my third year of residency," she says. "We had to move heaven and earth to make that happen, but we did it. I credit Maria with giving me my clinical skills. I used to call her the Yoda of dermatology because she could make the most crazy diagnoses from the door—she taught me to look at things with a completely different eye than any other attending ever had."
An Entrepreneurial Spirit
Taking an entrepreneurial cue from her mother, Dr. Eberting put herself through medical school by building a nationally distributed import business that she started at age 23 after returning from an 18-month mission in Japan.
"On the way home from my mission, I stopped in Thailand and found some handmade paper that I thought was really beautiful, and I decided to sell it to pay for my schooling," she says. "On an initial investment of $55 (which was all I had left after serving my mission), I built the business up to sales of about $400,000 a year. I worked in my warehouse three nights a week until 3 a.m., only to be back in class by 7 a.m. the next morning."
She was able to finance her medical school education without any debt and sold the business a few months before finishing her NIH fellowship.
Although she was raised in Bellevue, Washington, Dr. Eberting moved to Alpine, Utah, after training to be closer to several of her siblings who were living in the area. "Alpine is actually the highest income per capita city in Utah. It's a beautiful place, with a highly educated population and a number of tech company startups nearby—and it's full of people who are interested in cosmetic procedures," she says. "I wanted to practice within a mile of my home so I could be accessible to my children (I now have four). It has proved to be a wonderful setup for me."
In 2006, she opened Alpine Dermatology & Laser Center, where she initially tried a cash-only model but found it wasn't successful. "Since I did not borrow any money to start my practice, I was break-even from day one—despite this, it didn't grow as quickly as I wanted," says Dr. Eberting.
After six months, she started taking insurance, and the practice has been growing steadily ever since.
Not content to simply practice dermatology, Dr. Eberting spent her first years in practice growing her own skincare line—CherylLeeMD Sensitive Skin—based on an idea that came to her during residency when she was introduced to the gold standard of skin care at the time, hypoallergenic moisturizers.
"Those moisturizers did not hydrate very well, they stung on broken skin and they contained some allergens and carcinogens even though they were touted as hypoallergenic. They also lacked any sort of engineering to optimize the skin barrier," she says. "I wanted something that I could use for myself and on my own children, as well as my patients. I resolved to make something better."
She spent four years developing her TrueLipids technology. "It's a patent-pending skin barrier optimization technology that replaces the lipids that are specifically deficient in aging, dry and eczema-prone skin; optimizes skin barrier pH and the microbiome; and addresses abnormal cellular turnover, inflammation and water loss all at the same time," she says.
To accommodate all her patient, staff and skincare business needs, Alpine Dermatology & Laser Center is situated inside a three-story building. Dr. Eberting and nurse practitioner Carolyn Sironen see most of the medical dermatology and some cosmetic patients on the main floor, which also houses an integrative medicine clinic managed by Johanna Fuentes-Valdes, MD.
The practice's management offices, employee break room and kitchen, and shipping and fulfillment center for TrueLipids are all located in the basement. The third floor houses the administrative, sales and design offices for CherylLeeMD Sensitive Skincare as well as a new medical spa, where Karen Stolman, MD, administers cosmetic procedures and the practice's estheticians see patients.
"I like to present the message that we provide the best quality all-around care that patients can get. To deliver that message, it's important to have a very updated look to the office, and to make sure that patients are aware of our training and the fact that we care about their experience here," says Dr. Eberting. "We have a recommendations box in our office and we survey our patients."
She takes pride in the wide range of services the center is able to offer thanks to a variety of aesthetic devices, which include the Sciton Joule platform, Vanquish (BTL Aesthetics), eMatrix (Syneron-Candela), ThermiTight and ThermiSmooth, the OmniLux (PhotoMedix) and Celluma (BioPhotas). "We've invested in some very nice technologies and are able to offer anything from major resurfacing, skin tightening and body sculpting to hair removal and more. It is really nice to have so many tools to choose from," she says.
The Work-Life Balance
As the owner of a growing dermatology practice, medspa and skincare line, Dr. Eberting still struggles to balance her professional life—and workaholic personality—with her love of being a mother. "I make every effort to be with my children when I am with my children," she says. "I also have an incredibly supportive husband and, though he is a very busy business and financial executive, he fills in where and when I cannot. He does all that he can to support me in what I am doing."
She realized after her second child was born that her life became less stressful when she employed two nannies, who work in a job share so if one is sick, there's always someone to cover. "This is one of the best tricks I ever learned about work-life balance," says Dr. Eberting. "My office is also only one mile from my home, enabling me to do things for my children when needed. Despite all this, I must admit that I am a die-hard workaholic and I absolutely love what I do, so there is never a moment of boredom in our lives."
Of note, she never, ever watches TV or spends any time on social media.
Dr. Eberting describes her management style as being "very focused, always strategizing, and a little intense but not micromanagement. I also like to have fun and laugh at work every day, and I think that everyone should," she says. "We hire people who have experience in doing what we need them to do. We hold regular staff meetings, set goals and follow up on them. I expect the best and empower my employees to do what is expected. I let my team members know how much I appreciate and respect them—I can't overemphasize this one."
Getting the Word Out
Marketing has always been an important part of Dr. Eberting's practice, but she feels her reputation and patient referral base is really what has helped the practice grow over the years. She estimates that 90% of all new patients come from referrals. To that end, she employs a number of in-house marketing strategies. She created a catalog book of all the cosmetic services offered by the practice, complete with before and after photos of each procedure. A copy of the book sits in each waiting room, at the front desk and in every patient room. There are flat screen TVs that broadcast a video loop of available treatments in the reception area and most treatment rooms. "This makes patients aware of our services and opens the door for more cosmetic procedures, medical services and retail sales," says Dr. Eberting.
Additionally, she worked with Richard Dick, PhD, author of Emerging Computer-Based Patient Record Systems and The Computer-Based Patient Record: An Essential Technology for Health Care, to create her own telemedicine clinic and integrated e-commerce site called AZIVA.
"Part of our patent-pending technology is that each product and cosmetic service is linked to a free online cosmetic consultation in our telemedicine clinic," she says. "Patients can browse pricing and other specifics without even calling us."
Patients can then purchase a procedure from the website or pay for it when they come in for the actual treatment. "It has worked as an incredible lead-generation tool to post the actual prices of our procedures and to integrate them with a real-time online consultation," says Dr. Eberting. "This required an incredible amount of work, but it has been amazing at upselling products and services while taking minimal employee time."
Her practice philosophy is: The patient always comes first. Accordingly, she makes sure to give her full attention to each person she treats. "We need to pay close attention to the patient experience. At the same time, we can't always accommodate demand as if we are a drive-through," she says. "There may be a patient who walks in with a melanoma—I'm not going to reschedule them just because their appointment time is up. When that happens, someone is going to have to wait. I always explain to the patient who had to wait, 'I hope you understand that if it were you who needed a melanoma excised today, I would do it for you rather than make you come back next week.' I am always thinking about how we can do things better, and how we can improve the patient experience."
Keith Loria is a freelance writer based in Oaktown, VA.
Photography by Chad Kirkland.