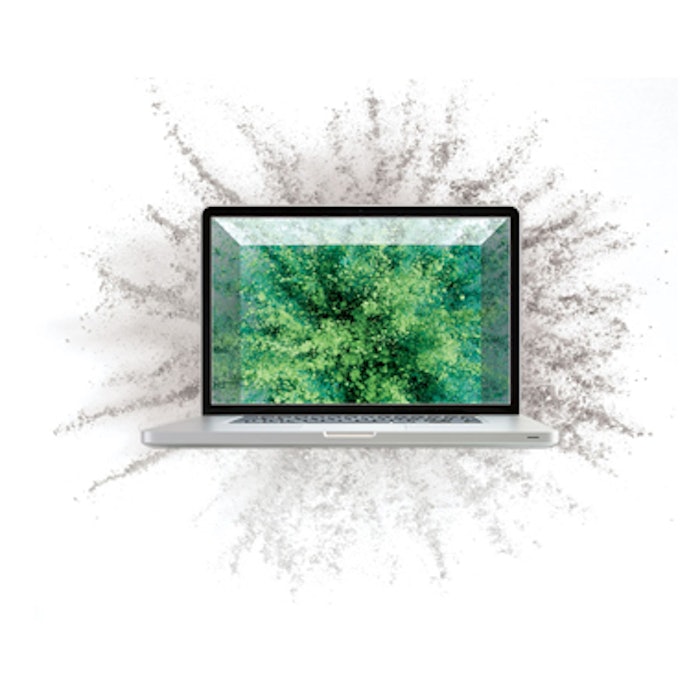 In the past decade, marketing and advertising efforts have moved online to capture consumers where they shop, get informed and spend most of their time. "Things have evolved over the past 10 to 15 years from traditional face-to-face marketing, sending cards and making phone calls to almost exclusively digital marketing," says Timothy Katzen, MD, a plastic surgeon in Beverly Hills, California."We still send out the occasional card, but the majority of our communication is digital."
Success in the competitive medical aesthetics environment requires a comprehensive digital marketing program. But a mobile-friendly website and top Google rankings aren't enough. "An effective marketing strategy must also include consistent and frequent email marketing campaigns targeted to prospects and to your existing patient base; weekly blogging to enhance SEO and educate visitors; cohesive social media postings across the most popular platforms; and software that allows you to track your traffic and conversion rates and automate your email efforts," says Tim Sawyer, president of Crystal Clear Digital Marketing, an Orlando, Florida-based company that specializes in digital marketing for medical practices.
Whether your primary goal is to acquire new patients or increase per patient revenue, here's a quick guide to launching (or upgrading) your digital marketing efforts.
New Patient Acquisition
Your practice website is the anchor of your online marketing efforts. The goal of your digital marketing plan is to help people find your site and then contact your office, whether through an online contact form or by phone. If you want to build your patient base, the first step is to create a website that will capture attention and then help consumers find that site through search engine optimization and a comprehensive web presence. How do you do this?
Take advantage of all directories and listings. There are hundreds of online directories and listings—such as Angie's List, RateMDs, Zocdoc, Healthgrades and Google My Business—that can help bring prospective patients to your site and, ultimately, your practice. "The more sites across the web that link to your website, the better," says Ed Syring, senior vice president of medical practice consulting firms YellowTelescope, SEOversite and iScreamSocialMedia. "Do a sweep of directory sites and update your information. Even if the site only gets 12 visitors, it helps your rankings."
A relatively new offering that can help practices target local consumers interested in their services is Google My Business. "If you Google 'Best Pizza Vermont,' for example, a map will come up with nearby pizza parlors that have a Google Business listing," says Syring. "Google tries to make things as user-friendly as possible, so it looks for the business closest to the searcher."
If you have not created a Google listing for your practice, go to google.com/mybusiness to create an account, then fill in the information—address, phone number, description and website—and upload photos of the practice and/or providers.
Solicit online reviews. Word of mouth from satisfied patients is one of the most effective means of practice building. Prospective patients who don't have a personal referral are often swayed to visit your site by online reviews. The best way to encourage satisfied patients to post their experiences online is to "ask, ask, ask," says Syring. He recommends providing information to patients on how to post reviews and training employees to ask for reviews through role-playing and by providing scripting tips, such as "Your satisfaction is our primary goal, and we are only happy when you are happy." "We want to help as many people as possible achieve results like yours; have you had a chance to share a bit about your experience?"
You can even ask patients to post reviews before they leave your office. SEOversite works with companies that provide practices with an iPad customized with specialized software, so patients can write on-the-spot reviews, which are then posted on a dozen or more websites.
But you can't just set up a laptop or store-bought iPad. "You need to use a provider that has unique software and an algorithm that creates unique IP addresses for each review in a legal and HIPAA-compliant fashion," says Syring. "Otherwise, Google is going to recognize that every one of those reviews is coming from the same IP address, and they are going to penalize you for that because it looks like you are fabricating them."
Create content for multiple channels. High-quality, frequently updated content drives not only your website's search engine rankings, but also boosts visibility on social media pages. Blogging, procedure videos, patient testimonials and before-and-after photos are all important, but when creating new content for your site or social media pages, it also pays to think outside the box. "Team members can be the stars of videos, photos and blog posts," says Syring. "Document everything appropriate in the office, whether it is your aesthetician recounting the effects of a new skin-care product, your receptionist describing a rewarding patient interaction, the doctor demonstrating a new device or technique or an office manager extolling excellent staff performance. Film it, photograph it or write about it. Get all the content you can, then publish it across channels for the world to see. But remember, people have short attention spans, so keep videos, in particular, to 30-60 seconds."
The goal is to help prospective patients find your practice, so be sure to include a link to your website on all content shared with or on another site.
Encourage visitors to explore. Once you get a visitor to your site, you have 10 seconds to capture their attention before they click back and leave, says Syring. What visitors see in plain view on that first page—often referred to as "above the fold"—is key to encouraging them to stay and explore your offerings.
"First, there should be a high-quality photo of the doctor or provider to humanize the brand of the practice," says Syring. "Second, there should be bullet points of the provider's accolades—medical school or universities attended, specialty, number of patients treated or procedures performed, level of accreditation or licensure achieved, etc. Finally, a phone number for the practice and a simple contact form that allows the person to submit their information."
Patient Retention
Repeat patients are the lifeblood of an aesthetics practice, and new technologies provide more avenues than ever to help practices stay in touch with them. With text and email appointment reminders, email blasts, social media and even automated phone reminders, you can communicate with existing patients to spur new bookings, build loyalty and increase per-patient revenue. Effective patient retention tools include:
Appointment reminders. Appointment reminders help decrease no-shows, but they can do much more. Rather than having staff members call the next day's patients to confirm their appointments, practice management software automates—and customizes—the task. "The practice can set up their system to send out reminders three different times before the appointment—an email two weeks before, one the week before and then a text message one day before," says Micki DeJean, marketing director at Envision Software, an Orlando, Florida-based company that designs practice management software. "Service reminders are another tool to consider. If a patient comes in for Botox, for example, you set up a reminder that automatically goes out in three months reminding them that it's time to come in for their next treatment. You can set up the reminder to go out again two weeks before they are due, one week before and then one week after."
Targeted email marketing. "Most healthcare practices engage in broad-brush email blasting," says Robert Fabbio, CEO of eRelevance, a company that specializes in marketing to existing patients. For example, a practice may email the same monthly newsletter to all patients in its database. "That one-size-fits-all communication is spamming their patients and driving them away," says Fabbio.
A better idea: targeted email campaigns sent to select patients. Dr. Katzen, for example, emails monthly specials targeted toward specific groups in his database. "We do targeted blasts and try to bring them in by offering sales on a procedure in which they are interested," he says.
Most practice management software programs allow you to create and automate targeted campaigns. You can select a recipient group within your database based on age, gender, previous procedures and even expressed interest based on patient surveys. Then create an email specifically aimed at this group.
The downside to email blasts is that with so many companies targeting existing users with daily, weekly or monthly newsletters and promotions, it's easy for recipients to simply delete the messages. "If you use email only and your open rates are 20 percent; that means 80 percent of your patient base isn't even seeing what you're promoting," says Fabbio. "The question then becomes, what are you doing digitally to reach the other 80 percent who are not opening your emails?"
Multi-channel marketing. In addition to email blasts and appointment reminders, social media advertising, text messaging and custom apps allow practices to reach targeted audiences. Dr. Katsen has two full-time employees who are dedicated only to social media. He also works with two outsource companies that focus on digital marketing efforts, including his website, email campaigns and social media.
Working with Digital Providers
In order to streamline marketing efforts and free up staff time, many practices are working with digital marketing companies that oversee and coordinate digital marketing efforts—often through proprietary integrated software systems.
"Most practices have a vendor for the website and SEO, a vendor for content and email, maybe another for social media, plus patient engagement software and EMR," says Sawyer. "Combining multiple fragmented systems into one integrated solution can reduce costs while increasing the practice's ability to manage, measure and improve outcomes in every area of sales and marketing."
Dr. Katzen works with Crystal Clear Digital Marketing's Social Patient Center (SPC) software. "It brings all the leads, whether from text, email, website, social media or YouTube, into one center. Then we contact the patient and schedule them from that same digital program, and I can track my results," he says.
Raminder Saluja, MD, of the Saluja Cosmetic & Laser Center in Charlotte, North Carolina, started her email campaigns using ConstantContact and managed her social media in-house before signing on with eRelevance last year. "I go into my eRelevance portal and I say, 'I want to do a special for fillers. I want it to launch on December 29 and run until January 31, and I want to offer X amount of dollars off.' Then I choose who I want to send it to. I can send it to only male patients or only 40- to 60-year old patients, for example. Then the company creates an advertisement and, once I approve it, sends it to existing patients. And it's not just e-blasts, it goes out through social media, text messages and an app that patients can download."
Once the practice has identified its promotion and target recipient group, "We identify those people in their database and send them an email," says Fabbio. "Then they get a text, and when they go into their Facebook and Instagram feeds they also see ads. If they've downloaded the app, they can also have an automated conversation about the procedure, and then book an appointment."
YellowTelescope has carved out a new niche through its SEOversite service that connects practices with digital marketing specialists based on the needs of the practice. "We are a matchmaker that connects practices with elite online marketing teams like website designers, SEO specialists and more," says Syring.
Most digital marketing providers charge a monthly fee that can range from $900 to $5,000 depending on the services they provide and the size of your database. At that price, be sure to choose a provider that meets your specific needs—and know what you are getting for your money.
Dr. Saluja suggests asking, What is the cost? Who creates the content? Do they 'click' with me and my staff? "This stuff is not cheap, but you can see the results," she says. "After our website redesign, we could see the increase in traffic. Through the eRelevance portal, I can see how much I've gained in revenue through different campaigns. Increasing our digital marketing has worked well for us. But we always keep our ears open when we go to meetings. We want to learn what new strategies and services are out there. You don't want your marketing to become stagnant."
Inga Hansen is the executive editor of MedEsthetics.
Image copyright Getty Images