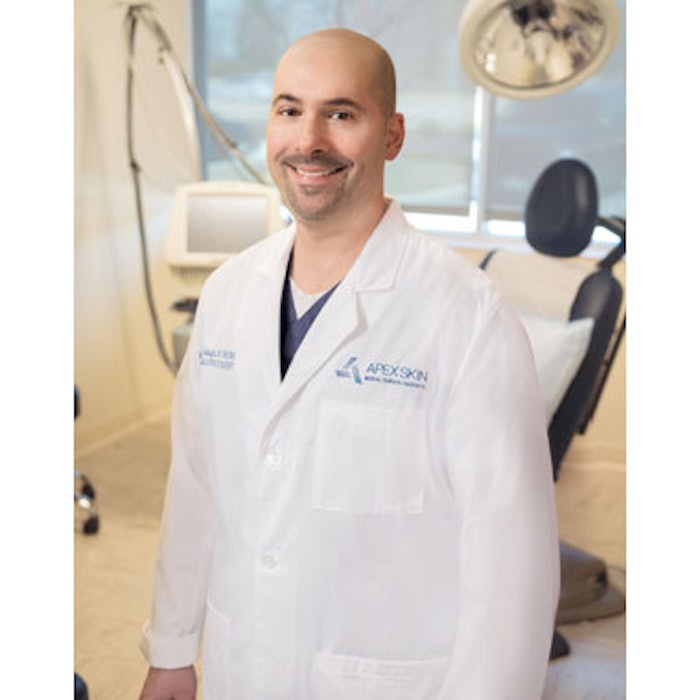 Dermatologist and former Marine flight surgeon Jorge Garcia-Zuazaga, MD, credits his grandfather with passing down the entrepreneurial DNA that helped him grow his single, physician-owned practice into a seven-location premier dermatology group in just seven years.
Domingo Garcia, a builder from the Canary Islands, left Spain and moved to Cuba to start his own construction company. "My dad, Jorge, also had that entrepreneurial, adventurous spirit. He left Cuba and moved to Puerto Rico to pursue his dreams," says Dr. Garcia-Zuazaga. "My dad used to say, 'Un poquito más,' which meant always give a little more to any endeavor you do, and you will be rewarded."
Becoming a Leader
Dr. Garcia-Zuazaga was born in Puerto Rico and raised in Caracas, Venezuela. He came to the U.S. in 1989 to attend Marquette University in Milwaukee, Wisconsin, graduating with a degree in biomedical engineering. His interest in medicine was piqued while earning his master's degree at the University of Iowa.
"As a graduate student in biomedical engineering, I was working on a project with artificial heart valves and became very interested in medicine. One of my engineering mentors suggested I apply to medical school," he says.
He joined the United States Navy and enrolled in the Navy Health Profession Scholarship Program, which allowed him to earn his medical degree at the Penn State College of Medicine. After graduating in the top 5 percent of his class, Dr. Garcia-Zuazaga completed an internship at Bethesda National Naval Medical Center in Maryland before moving to Pensacola, Florida, for Aerospace Medicine training with the Navy.
He spent the next five years working as a flight surgeon with the U.S. Marines. "Being a Marine flight surgeon
is really special," he says. "You are given a lot of responsibility early on in your career and form strong bonds with your squadron."
The sense of responsibility and leadership he gained from his experience in the military are traits that helped him as he started to grow his practice.
Founded in 2011, Apex Dermatology & Skin Surgery Centers in Northeast Ohio offer medical, surgical and aesthetic dermatology services. Dr. Garcia-Zuazaga's goal is to help people take control of their lives by helping them maintain healthy and vibrant skin.
"My military experience taught me to set a higher standard for myself and my employees. I always tell our staff the great thing about setting the bar high is that you never have to worry about people judging your success," he says. "Do what you love and do it with integrity. I share the same principles with my kids. I tell them to always put their best foot forward in any project, have passion for what they do and be respectful of others."
Way To Grow
Following his military service, Dr. Garcia-Zuazaga accepted a dermatology residency at University Hospitals Case Medical Center in Cleveland. Following residency, he and his wife packed up again heading this time to Boston for a Mohs Micrographic Surgery and Aesthetic Dermatology Fellowship at Harvard Medical School and the Lahey Clinic. In 2008, they moved to Northeast Ohio where Dr. Garcia-Zuazaga took on the position of director of Mohs surgery and aesthetic dermatology at University Hospitals (Westlake and Strongsville Medical Centers).
But he began to realize that academia was not the right long-term career for him. "In our academic institutions, people were waiting three months to get an appointment. I knew there had to be a better way to provide access to dermatologic care and skin cancer services," he says. "I wanted to make the process easier."
After earning an MBA at Case Western Reserve University's Weatherhead School of Management, Dr. Garcia-Zuazaga opened a small practice in Concord, Ohio, with three staff members. The challenge, he says, was getting his name out into the community. "I worked really hard. I gave talks in the community and made myself available for consultations in the local hospital," he says.
"Our first holiday party, there were four people in a restaurant booth and I said, 'I hope we can do this again next year.' Last year we had more than 200 people celebrating our new markets and growth," he says. "The plan was never to grow that fast, but I wanted to continue providing better access for the community. Our strategy has always been to identify and grow into new markets where there is need."
A few years ago, he launched the "Purple Heart project," which marries his military experience with community service. "Through the Purple Heart project, we provide complimentary laser scar revisions to qualified wounded veterans," he says. "It makes me proud that we are supporting so many people in the community."
Apex Skin also offers the SPOT check program, which educates the public on skin cancer risks and guarantees that anyone with a suspicious skin lesion will be seen by the practice within 24 hours. In recognition of these efforts, Dr. Garcia-Zuazaga received the American Red Cross Healthcare Hero Award in 2013.
"Our culture is set at the top—always be present and do the best we can for our patients without cutting corners," he says. "When we recruit physicians or staff members, I tell them that at Apex they will be part of something special, something with a higher purpose than just practicing dermatology. We are truly transforming lives. That's what gets me excited to come to work every day, and that's the common goal among our teams."
The practice has designed a collaborative approach to better address common dermatologic conditions. Medical providers and estheticians work together to clear patients' skin with comprehensive treatments designed for acne, acne scarring, skin brightening and antiaging.
"We've been successful with our Acne Specialty Clinic and our Scar Institute, programs that use a multidisciplinary approach to treatment," says Dr. Garcia-Zuazaga. "About 85 percent of acne patients are dissatisfied with their treatment. I believe that comes from not educating the patient about what they need and what they need to do. We create personalized plans that will get their acne clear."
Balancing Roles
As a clinician as well as founder and CEO of Apex Dermatology and Skin Surgery Centers, Dr. Garcia-Zuazaga wears several hats throughout his day. "The key to success is to hire the right professionals who understand your vision," he says. "I'm not a marketing person or an accountant. Over the past few years, I have worked diligently to ensure we have a solid corporate structure that can support growth. We have a great team in place including a chief operating officer, controller and director of marketing."
He believes in creating a pathway for growth within the company for his staff. "We have two practice managers who started with us as medical assistants," says Dr. Garcia-Zuazaga. "It gives me great pride to know that we are helping in our employees' professional development. It's important to nurture your own people and allow them to lead as well."
With four children between the ages of 7 and 13, dad is another important role that requires time and attention. "To me, parenting is my first—and most important—job," he says. "Our family spends a lot of time together. We go camping and skiing. I work really hard at work, but I work even harder on being a dad. I'm not going to miss a school play or a practice. I want to be there for them."
The Rock Star Experience
Now with seven locations, Apex Dermatology & Skin Surgery Center is a referral center for skin cancer patients as well as a well-known medical and aesthetic dermatology group. "We work hard to integrate into our new communities and build strong bonds," says Dr. Garcia-Zuazaga.
The offices are modern and clean, with state-of-the-art electronics, pod stations and workspaces. Dr. Garcia-Zuazaga and his staff strive to give every patient a "rock star" experience. "Think about the last time you went to a concert that you really liked—you felt happy, energized and told your friends about it the next day. The office is our stage," he explains. "When patients come into the office some are anxious because they have skin cancer or maybe they are depressed because of acne or scars. Our job is to deliver that awesome experience so when they come out of the office cancer free, acne free, with beautiful skin, they tell the whole world about Apex. We want to be the rock stars of derm, and this is very important to us."
The accessibility to care concerns that first led Dr. Garcia-Zuazaga to private practice remain priorities in all Apex locations. "We guarantee same-day appointments and we will see you on time, every time. That's our value proposition and our pledge to our patients," he says. "I respect people's time. People respect that. We also offer Saturday appointments and early evening appointments, and we will pick up the phone during lunch time. We want to be accessible."
Keith Loria is a freelance writer based in Oakton, VA.
Photography: Anthony Gray