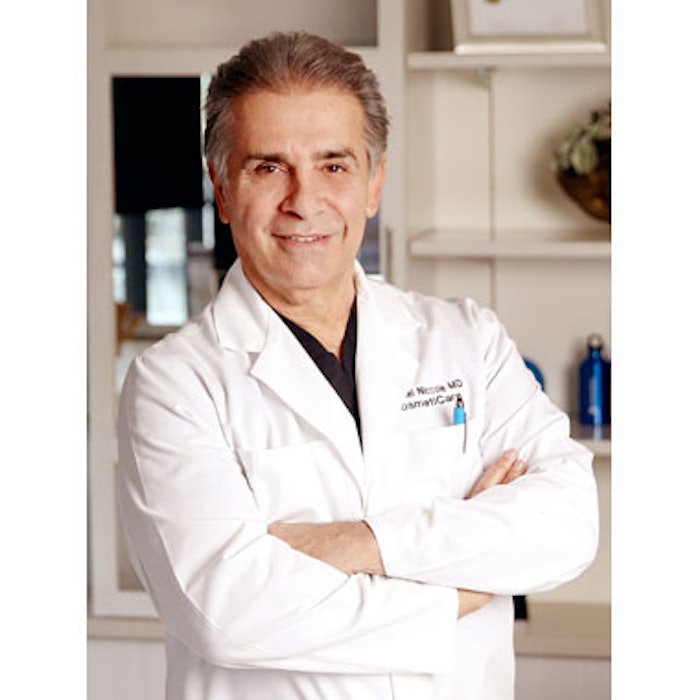 In his three-plus decades in private practice, Michael Niccole, MD, has seen his share of economic upturns and downturns. "There are things that we know go up during economic crises and isolation: drug use, alcohol use and smoking," he says. "But you know what goes up after a downturn? Plastic surgery. People want to look good, because they need to feel better."
Dr. Niccole is the medical director of CosmetiCare Plastic Surgery and Medspa, a 21,000-square-foot practice with more than 50 employees located in Corona Del Mar, California. His success would make his father proud. "My father was one of eight children, and my mother was one of eight children," says Dr. Niccole. "Their parents were immigrants, and they were laborers. My father's dream was for my brother and I to get an education."
Born in Brockton, Massachusetts, Dr. Niccole spent his first four years surrounded by extended family. His father's first step in carving out a different future for his children was to head out West. "Coming from a large family, he wanted to break away and start a new life with his own family, so we moved to Huntington Beach, California, when I was about 4 years old." Not surprisingly, surfing became a favorite pastime for Dr. Niccole. In his preteen years he developed another interest common to young boys: soldiers and war.
"Friends would buy me books about combat and the military, because I was really into that," he says. In one of these books, he came across pictures of soldiers who had been injured and had gone through reconstructive surgeries. "I saw pictures of soldiers who had lost their ears or noses, and someone rebuilt them. I was fascinated by that," he says.
His fascination with this aspect of war fit with his personality. "I was always helping people. Standing up for kids who were being bullied, helping grandmas with their groceries, finding injured animals and nursing them back to health," he says.
Though his interest in medicine was piqued in these preteen and teen years, not everyone was convinced this was the right path for the young Dr. Niccole. "In high school, I had to take an aptitude test, and they decided I should go into the trades," he says. His father, committed to seeing his sons live a different life, was not on board.
"My dad always wanted me to be a lawyer and they said, 'Your son will never be a lawyer. He's better off in the trade world. There are good jobs. He can be a mechanic or a plumber or a carpenter,'" recalls Dr. Niccole.
A few days later, his dad made an appointment with the school principal. "They called me into the office. My dad said, 'I'd like his transcripts and all of his information. He's leaving today.' Then he drove me to Brown Military Academy in Glendora, California. When he dropped me off, he said, 'You're going to become a lawyer.'"
Fighting for Medicine
Dr. Niccole eventually achieved the advanced education his father had long dreamed of, but not the law degree. "I hated law. I hated political science," he says. "I studied it for about a year at Pepperdine University, then dropped out for about a year and a half, because I just hated it."
After that year and a half, he convinced his father to give him a second chance at college, if he could study science. His father agreed, and Dr. Niccole received a bachelor of science from Pepperdine, before attending medical school at the University of California, Irvine (UCI).
"We rotated through all the different specialties, and I realized wanted to be a surgeon—I wanted to use my hands," says Dr. Niccole. He went into a general surgery residency at UCI, but soon realized it wan't a good fit. "It was the most boring thing I'd ever seen. I didn't want to do bowel surgery all my life and wake up in the middle of the night and do appendectomies," he says.
After two years of residency, he shared his dissatisfaction with one of his professors, who was the head of the otolaryngology department. A resident in the ENT program had passed away, and there was an opening. "He told me, 'When you rotated through through this department everybody liked you. I think you'd be a really good ear, nose and throat doctor, and there's an opening,'" says Dr. Niccole. "I said, 'Let me think about it.' He said, "Let you think about it! You have two hours or the position is gone.' I talked to my wife and went into the ENT residency for three years."
That was when he became enamoured with plastic and reconstructive surgeries, leading to a third residency. "I loved it so much, I wanted to be able to work on the whole body," says Dr. Niccole. "I applied all over for plastic and reconstructive surgery residencies, and was accepted at the University of Utah."
Married with two small children, Dr. Niccole split his time between his residency in Utah and a job managing two emergency rooms in California. "I would fly home on weekends. Take the residents from UCI and help them work in the emergency room. I was a bit of an entrepreneurial-type guy," he says. "I had a wife and two kids to take care of and, like my father who never had fewer than two jobs, I am a workaholic. So I worked, worked, worked. And I loved it."
Finding a Mission
Following his plastic surgery residency, Dr. Niccole returned to California to open his own practice. His thirst for knowledge and workaholic ways have continued throughout his career. After 11 years in medical school and residencies, he sought out other surgeons who could help him improve his skills. "I always wanted to be the best. I wanted to do a better nose, a better face, so I went all over the world, from Argentina to Brazil to Canada to Beverly Hills," he says. "To this day, I still do that. Just about a month ago I went to Alabama. There's a plastic surgeon there that I was told does a great facelift. So I thought, if I could go over there and just learn one or two little things, it will make my facelifts look a little better. I'll go anywhere I think I can learn something."
During his early years in private practice, he also got involved in medical missions. "There were a bunch of physicians out of Loma Linda Hospital, which is primarily a Seventh Day Adventist medical school, and they did a lot of volunteer work throughout Mexico. They were called The World Health volunteers," he says.
They asked Dr. Niccole if he would create a division of plastic and reconstructive surgery for their organization to perform cleft lip and cleft palate surgeries and treat burn scars for children in Mexico. "I did that for about 20 years. We would fly into Mexico every other month and stay for 3 days," he says. "We would start at 6 in the morning and finish at 6 at night. Unfortunately, the saddest thing is when you leave—there was always a line of kids still waiting."
In the 1980s, he was interviewed by the Los Angeles Times about his work in Mexico. "The reporter said, 'Well, that's great, but why aren't you doing this kind of work in the United States?' I said, 'In America everybody has money, anyone can have surgery,'" says Dr. Niccole.
But he learned that wasn't exactly the case. He was contacted by comedian Phyllis Diller, and together they launched the Magic Mirror Foundation to offer free elective cosmetic procedures to survivors of domestic abuse and children with congenital deformities here in the United States.
"I have a fabulous practice. I operate five days a week, and I make a lot of money," says Dr. Niccole. "But I get more personal gratification in helping one of these kids who's been bullied or a domestic violence survivor than I do in my private practice. It's so rewarding. It's like winning the lottery."
Now the father of four grown children—two sons and two daughters—helping patients move forward and seeing their self-confidence soar remains his inspiration. "There isn't a day that goes by that somebody isn't happy and thankful. That's what I get out of this," he says. "It's selfish, but I love it."
That's not to say he has never experienced an unhappy patient. "Of course you make mistakes or sometimes get a less-than-perfect result, but you have to take care of the patient," he says. "You have to stay with them. My philosophy has always been to make the patient happy. The patient should always be smiling when they leave our office."
Soliciting Feedback
In his 35-year career, plastic surgery has changed substantially, and his practice has changed along with it. "I've got one of the largest medspas in California. It's really, really busy. But I don't do Botox. I don't do Juvederm. I don't do CoolSculpting. How could I be a good surgeon and also do all of those things well?" he says. Instead, he seeks out the best practitioners and invests in their ongoing training.
"My nurses and nurse practitioners are trainers. They instruct physicians on how to perform these treatments. I always try to get the best of the best, and I believe that's why we're so successful," says Dr. Niccole, whose son Devon is now the CEO of CosmetiCare. "When people come into this office, they are treated like kings and queens, because they're the ones who are going to refer. You get one happy patient, you get 10 more. You get one unhappy patient, and they're online. Then you lose 20 patients. We know that."
To ensure the highest standards and patient satisfaction, his practice follows a philosophy of open communication, based on the book Radical Candor. "It's a great book. If I think an employee isn't doing something correctly, I'm going to tell them and I'm going to hold them accountable, but I expect that for me, too," he says. "I tell my team, if you don't think I'm doing something right—if you feel I'm not being warm enough with the patients or I'm not holding their hands when they're nervous, tell me. My staff teaches me, and I teach them. We all want to know what would make us a little bit better."
With his practice currently closed due to the COVID-19 pandemic, Dr. Niccole is sticking to his daily routine as much as possible. "All my life I've gotten up at 4 a.m. I go to the gym, work out for one hour and then start surgery at 6 a.m."
When the stay-at-home orders came, he and his daughters overhauled the family's home gym. "We cleaned out the garage, painted and polished up the chrome," says Dr. Niccole. "Now, every day, my wife and my two daughters and I work out in our own gym and then get on our bikes and take a ride up and down the boardwalk."
Having experienced a few economic downturns in his career, Dr. Niccole remains confident that he and others in the industry will come out ahead in time, noting that he already has a backlog of appointments and will likely be offering Saturday hours to catch up.
"I like to do my own thing. I know if I fail or deliver poor service, it's my fault," he says. "That's what drives me to keep training and keep improving our customer service. I give patients my cell phone number. I make house calls. And unfortunately, so many surgeons don't do that. The key is to never stop learning."
Inga Hansen is the executive editor of MedEsthetics.