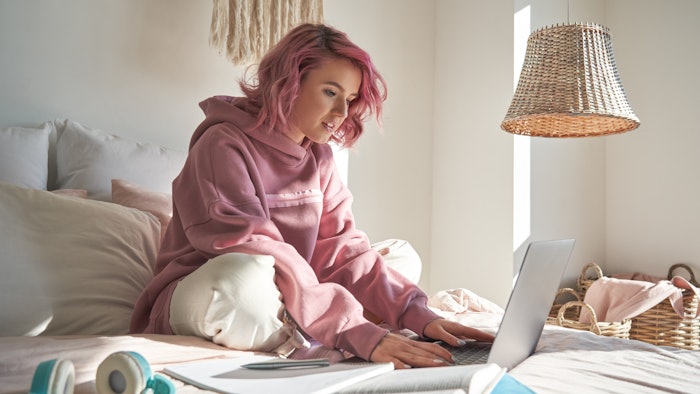 Mintel has released its 2023 U.S. Gen Z Beauty Consumer report detailing the current trends and spending habits of Gen-Z consumers. The report found that younger consumers care about ethical practices but don't believe mainstream brands that claim to be sustainable, use Tik Tok to influence their purchasing decisions and react strongly to impulse marketing that emphasizes exclusivity and limited availability. 
Related: 3 Aesthetic Business Models Attracting Gen-Z Consumers
Ethical Brands
Mintel's consumer report found that more than 33% of Gen-Z adults and 13% of Gen-Z teens do not use brands that act unethically, with 58% agreeing that they don't believe mainstream brands that say they are sustainable. Gen-Z consumers are increasingly making purchasing decisions based on their ideological values and beliefs. When more brands leverage their eco-ethical position, they should avoid vague language and offer evidence of their sustainable efforts.
Gen-Z, having been surrounded by an increasing amount of diversity growing up, is dedicated to diversity and inclusion, with two-thirds agreeing that traditional gender roles are outdated, according to Mintel. Even if it doesn't directly impact them, Gen-Z strongly embraces diversity when it comes to expressions of identity, seeking out brands and businesses that are inclusive and demonstrate diversity in their representation and marketing. 
The desire for authenticity and morality can be seen in other areas as well. Gen-Z consumers are pushing back against unrealistic beauty standards, they demand more realistic and attainable representation from brands and will increasingly expect brands to destigmatize flaws, per the report.
Virtual Influence
A staggering 98% of Gen Z use social media, and Mintel reports that 48% of Gen-Z adults and 53% of Gen-Z teens are at least somewhat interested in interacting with beauty products virtually. Tik Tok has reshaped the way young consumers research, purchase and use products across the beauty and personal care industry: 69% turn to the social platform for new trends that influence their buying decisions. Additionally, this demographic is twice as likely to use online and mobile wallets than the average consumer.
The economic downturn post-pandemic has instilled a defensive spending mindset among Gen-Z consumers, with 43% expecting to cut back on non-essential spending and 51% choosing to prioritize their finances as a result of rising prices. However, affluent Gen-Z consumers are eager to upgrade elements of their life in order to achieve their aspirations of adulthood. This can mean purchasing items deemed higher quality, healthier, more sustainable or a better long-term investment that helps younger consumers adopt more sophisticated routines. Gen-Z adults are more likely to believe that the ability to afford luxuries is an important measure of financial happiness, higher than any other generation, according to the report.
Impulse Shop
The report indicates that Gen-Z consumers will impulse shop, making them a strong audience for messaging that emphasizes urgency, whether due to limited availability or popularity. One way brands that are popular with Gen-Z drive urgency is by announcing when their best-selling items are back in stock or emphasizing which items have sold out in the past.
Exclusivity will also enhance the appeal of products and services to those wanting an elevated experience from brands. Specialty merchandise can signal quality, novelty and limited availability. Promoting seasonal designs, flavors or colors imply products with a short availability window.