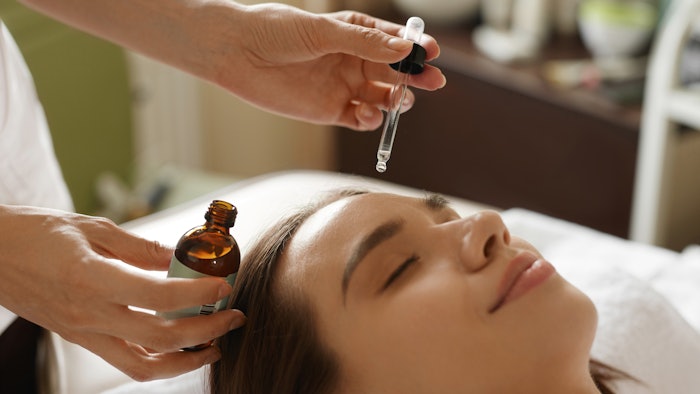 The U.S. physician-dispensed skin care market registered a record-high sales growth of 26% in 2022, according to the Professional Skin Care Global Series report by Kline Group. However, many professional skin care marketers are expecting growth in 2022 to be about one-half of the growth last year. 
Despite uncertainty of how consumers will approach professional skin care heading into the next year, The Professional Skin Care Consumer: Attitudes and Behaviors Survey signaled recession proof characteristics for 2023. 
This report provided an unbiased view of 500 professional skin care consumers' skin care goals, outcomes that they are expecting from their booked procedures, products that they are using in their morning and evening routines, their spending habits, their outlet preferences for skin care and more.  
Related: How Spa Professionals Can Navigate Inflation
Key Professional Skin Care Spending Takeaways
97% of participants have continued to use the same number of skin care products in their at-home regimens or even increase the number of products that they use daily over the last six months.
42% of participants are planning to spend the same amount on skin care products in 2023, while 54% are planning to spend more.
66% of participants have not cancelled or delayed any of their non-invasive aesthetic treatments due to inflation or the economic climate.
88% of participants are still looking forward to having their non-invasive aesthetic procedures and think that they will have the same number of procedures in 2023 as in 2022 or even book a few more procedures. 
Related: 5 Ways to Boost Retail
Spending in the Spa
So, what can you do with this information when it comes to your spa? This showcases that your clients are willing to spend when it comes to skin care. Make sure your estheticians and front desk are properly trained when it comes to selling the retail space. Make sure to listen to your clients on the problems they are seeing in their skin. That way when recommending products you can show them products you think they need for their skin as well as products to help solve the problems they are seeing. 
This is also a great opportunity to offer some kind of specials that will allow new clientele to enter. For example, do specials on girl's weekend packages, or couple's packages. This way you can have new people come into your spa who are willing to spend money on their skin and hopefully come back for more. You can also offer specials or packages on your retail space by offering a free gift sample with any skin care product purchase. 
With consumers willing to spend a little more on their skin, don't miss the chance to swoop in and show them how much you can help them achieve the skin they want.