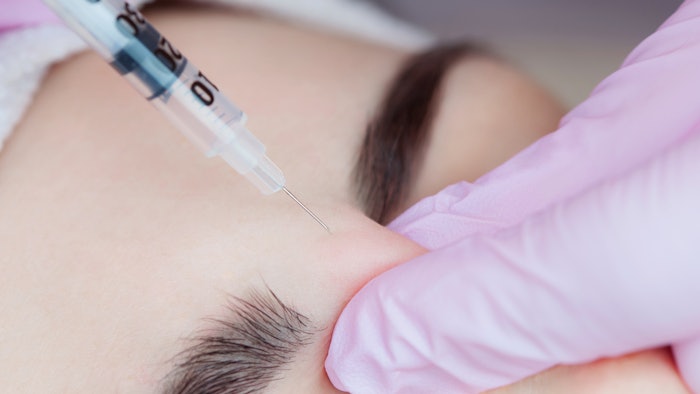 A study published in the Journal of Dermatologic Surgery (November 2020) assessed the frequency of eyelid ptosis after performing glabella and periorbital botulinum toxin injection treatments and nonablative fractionated laser treatments in the same session. The study was designed to evaluate the concern of botulinum toxin spreading outside of the treatment area when the injections are paired with energy-based device procedures in the same day. 
Related: Guidelines To Manage CaHA Filler-related Intravascular Complications
The single-center, retrospective study identified treatments that consisted of botulinum toxin injection and nonablative fractionated laser treatments to the entire face from 2017 to 2019. There were 619 treatments of glabella and periorbital botulinum toxin injections and full-face nonablative fractionated laser.
Roughly 580 (94%) treatments included botulinum toxin injected in the glabella injection, 541 (88%) treatments included periorbital injection and 508 (82%) included forehead injections. The nonablative fractionated lasers used to treat the cohort were a 1,927-nm thulium and a 1,550-nm Er:glass laser. 
Related: Microbotulinum Injections Improve Skin Texture and Reduce Pore Size
Eyelid ptosis complication was documented in one case (0.2%) following the combined laser and toxin treatment. 
The auhtors concluded that the risk of spread of glabella or periorbital botulinum toxin to an unintended muscle following same-day treatment with a nonblative laser was minimal.
To access to full study click here.