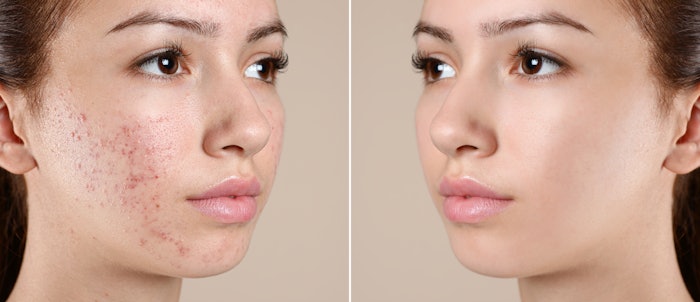 Bausch Health Companies and Ortho Dermatologics have announced results from a second Phase 3 clinical trial evaluating its investigational medicine IDP-126, a combination retinoid, antibacterial and antibiotic topical, to treat acne vulgaris in patients nine years of age and older.
If approved, IDP-126 would be the first-in-class with this triple combination.
The second Phase 3 study confirmed the findings of the first Phase 3 study, which met all of its co-primary endpoints. This second Phase 3 study achieved all three co-primary endpoints at week 12 with statistical significance, including:
Absolute change from baseline in inflammatory lesion count [p-value<0.001]

Absolute change from baseline in non-inflammatory lesion count [p-value<0.001]

Percentage of patients who achieved treatment success (defined as a two-grade reduction from baseline and 'clear' or 'almost clear' skin in Evaluator's Global Severity Score (EGSS)) (p=0.001)
Treatment success was 50.5% and 20.5% for IDP-126 and its vehicle, respectively. The data also demonstrated a benefit for patients as early as two weeks.
"The results from this pivotal Phase 3 trial indicate a strong safety, tolerability and efficacy profile for IDP-126 and reinforce its potential as a first-in-class treatment option for millions of patients struggling with acne," said Scott Hirsch, president, Ortho Dermatologics, and senior vice president and chief strategy officer, Bausch Health. "Following the results of a comparative bridging study, we hope to submit a New Drug Application for IDP-126 to the U.S. Food and Drug Administration in the second half of 2022."