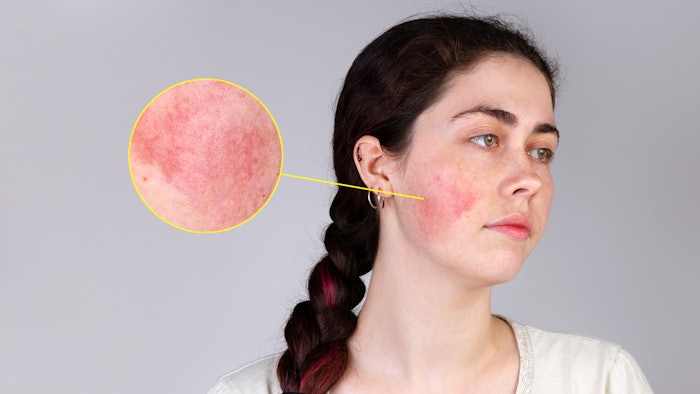 CAGE Bio has initiated the dosing of the first patient in its Phase 2 clinical trial for the treatment of inflammatory lesions of rosacea.The 12-week randomized double-blind vehicle-controlled trial is testing CAGE Bio's novel ionic-liquid based product, CGB-400 Topical Gel. Patients diagnosed with moderate-to-severe rosacea with inflammatory lesions on their face will be enrolled in the study at four sites in the U.S. and randomized to an active or vehicle arm.
Related: RF Reduces Vessel Density and Inflammation in Rosacea-prone Skin
"In an earlier study CAGE Bio's CGB-400 was well tolerated and showed an approximate 80% reduction in inflammatory lesion count," said Nitin Joshi, co-founder and CEO of CAGE Bio. "We believe CGB-400 will prove to be significantly more effective in treating rosacea than other products available today."
CAGE Bio's ionic liquid technology was invented by Professor Samir Mitragotri and his team while he was at the University of California, Santa Barbara. Mitragotri is Hiller professor of Bioengineering and Hansjorg Wyss Professor of Biologically Inspired Engineering at John A. Paulson School of Engineering & Applied Sciences at Harvard University and Wyss Institute.