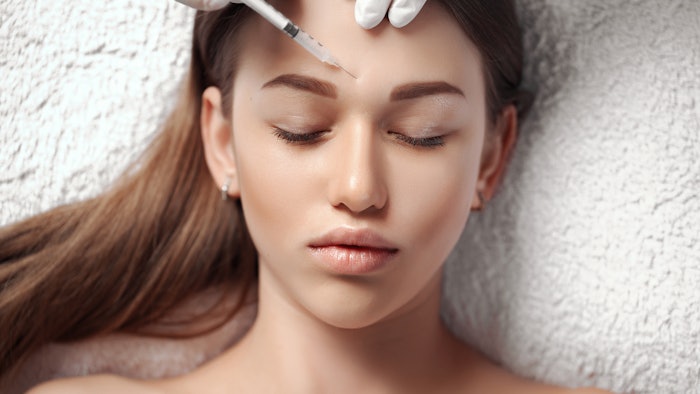 Spate's latest trends report indicates growing U.S. consumer interest in entry-level Botox, eye and lip filler and sunscreen mist, with baby Botox specifically growing 233% in searches since last year.
Related: Pandemic Zoom Insecurities Lead to Increase in Skin Care
Baby Botox
According to Spate, there are 7.5k searches on average every month for baby Botox in the United States, with the main interest in this treatment coming from consumer slooking for a more subtle tweakment option. This is low compared to other face service searches but indicates an increase of 233% since last year, and it has opened the question to whether the rise in baby Botox will lead to a rise in other "baby" services for the face and body. 
No competition or market leaders were attached to the searches. Lip fillers (+15.5% YOY) and eye fillers (+24.0% YOY) also increased in search volume over the last year, 15% and 24%, respectively. Spate predicts that these trends will continue to rise over the next year.
Board-certified dermatology Jennifer Chwalek, MD, also noted that this increase in consumer interest for cosmetic procedures will likely also lead to an increased interest in products catered to post-treatment care.
Sun Care
Sunscreen Mist searches increased 80.9% since last year, with an average of 2.9k searches every month in the United States. Face, spray, antioxidant, mineral, review, best and vitamin C were common related searches. SPF setting spray increased 52% over the last year, which indicates that consumers are on the hunt for multi-tasking formulations in their sun and skin care. 
Even though there is an increased interest in clean beauty, it appeared that many products searched alongside this trend used chemical filters instead of mineral alternatives. 
Related: Synthetics Vs. Botanicals: Breaking Down "Clean" Skin Care