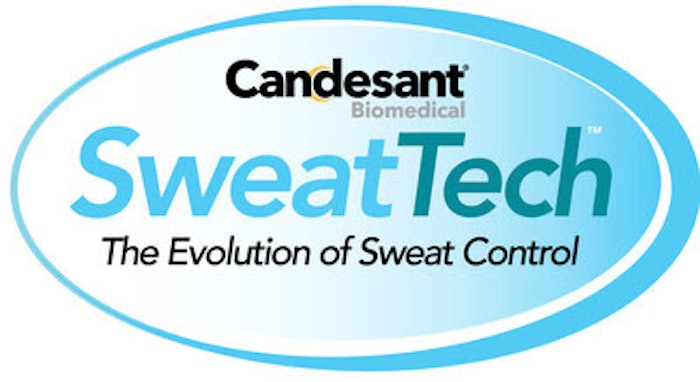 Photo courtesy of Candesant Biomedical
Candesant Biomedical announced the "SweatTech Initiative" to raise awareness of the significant impact of excessive sweating, educate on how treatments have evolved over the decades, and demonstrate the ongoing need for more modern treatments. 
The initiative was launched at the American Society for Dermatologic Surgery Annual Meeting that took place on Oct. 6-10, 2022 in Denver, CO. 
Related: Study Develops a Professional Aesthetic Scale for the Female Abdomen
"People have been seeking to control or mask sweat for hundreds of years. While approaches to control hyperhidrosis have evolved with technological advances, some treatments involve injections or surgery, or cause staining on clothes," stated Niquette Hunt, president and CEO of Candesant. "Excessive sweating can have a significant impact on those who experience it, causing physical, social, emotional and even financial distress. At Candesant, we understand the importance of raising awareness of this condition and are excited to be advancing modern technology for those seeking new solutions for excessive sweat control."
Candesant is developing a non-invasive solution designed to reduce excessive sweating, focused first on primary axillary hyperhidrosis. The goal is to provide a treatment for patients that is quick, effective, safe and affordable. 
The investigational "TAT" (targeted alkali thermolysis) patch is designed to be single-use and disposable. It uses alkali metal that creates thermal energy that micro-targets sweat glands and temporarily inactivates them to reduce sweating. Clinical studies show that the TAT patch significantly reduces sweat. 
The TAT patch is applied by a healthcare professional for up to three minutes per underarms. The patch is designed to fit easily into patients' quarterly in-office treatment regimens and is currently undergoing review by the US Food and Drug Administration.