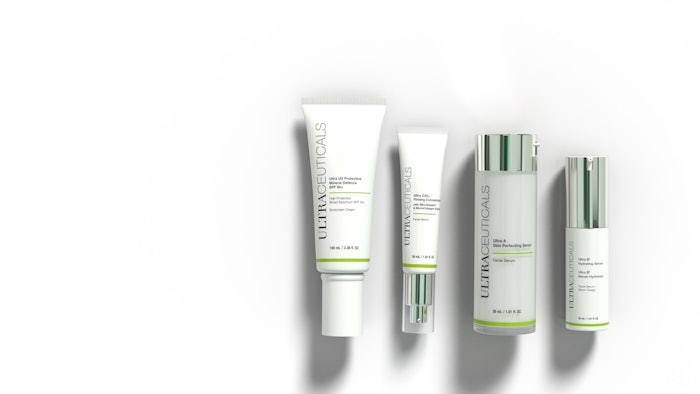 Photo courtesy of Ultraceuticals
Ultraceuticals launched into the U.S. market in the spring of 2020, and has since strategically built a base for its business and have plans for future growth. To support the trajectory of the brand, the team announced the appointment of two senior leaders in their next phase of expansion. 
Bob Hobé has joined Ultraceuticals as Senior Vice President of International Business Development, and Shawn Johnson as Education Manager, North America and Europe. Hobé will be working directly with Dr. Geoffrey Heber, Ultraceuticals' founder, and Andrew Dingle, Chief Executive Officer.
Now available through professional distribution partners in 44 states across the U.S., Ultraceuticals is featured in 100 of the top professional spas around the country, including the Spa at The Fairmont Hotel in Los Angeles, CA. Each esthetician working with the brand has been personally trained to ensure the highest standards in treatments and correct prescription of products. 
Related: Stories of Success… Geoffrey Heber, MD
"This is such an exciting and pivotal time for Ultraceuticals," says Dingle. "As a leading professional brand for more than 20 years, it's been our longtime goal to launch in the U.S., to grow our presence and to take our global place as leaders in the category among skin care professionals. With this initial U.S. experience under our belt, and an exciting future ahead of us, the appointment of Bob and Shawn is a strategic and significant step forward in helping us achieve this."
Hobé holds more than 20 years of experience in executive leadership and brand stewardship. Prior to his new title, he led the international business development for several professional beauty brands including Olaplex, Algenist, Sparitual and Orly, and most recently helmed the Hobé Group, an international sales consulting company. Hobé will be in charge of strengthening distributor relationships, achieving growth within the professional skin care channel via the roll out to additional spas and growing overall consumer brand awareness.
Johnson will act as the brand's education manager, overseeing the U.S. Her responsibilities include leading the education efforts for U.S. national accounts and the distribution network. Additionally, Johnson will serve as Ultraceuticals' Brand Ambassador, supporting public relations and virtual engagement for the U.S. and Europe.
In addition, a dedicated U.S. marketing plan has been developed, including a comprehensive social media program to support estheticians and consumers across the country. This will be rolled out in the first quarter of 2023.