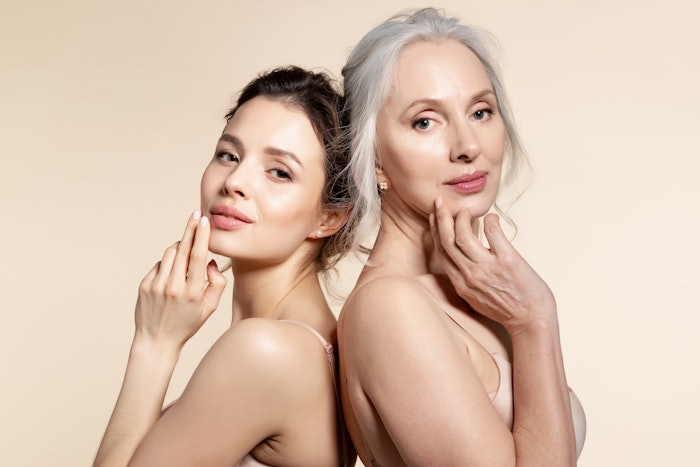 The advent of wellness aesthetics has started a shift in the general perception of aging and what the aesthetic focus should be when it comes to aging. This has brought forth the current comparison and semi-showdown between the "anti-aging" and "healthy aging" approach to medical aesthetics and beauty in general. 
Aging Well: Combining Anti-Aging & Wellness 
If you read our April profile on Julie Russak, M.D., and Jennifer Hanway, you know about their integration of wellness and aesthetics in their anti-aging wellness program. In-house Board Certified holistic nutritionist and celebrity health coach, Jennifer Hanway, alongside Dr. Russak, leads all patients through their personalized testing analysis and develops customized nutrition, supplement, lifestyle and aesthetic treatment plans. "Aging well is the mission of the program, and that requires more than skin deep procedures. We have the ability to reprogram gene expression to increase our health span, while resetting our cells to a more youthful state," said Hanway. "Benefits of the program include slowing premature aging internally and externally, healthy skin and hair, hormone and metabolism optimization, weight loss, increased lean muscle mass, increased energy levels and mental clarity." 
Prejuvenation Treatments & Aging
In our recent survey focusing on prejuvenation treatments, we highlighted how Prejuvenation treatments among the younger generations is seeing a major increase in popularity. Younger demographics are taking action to prevent loss of laxity in the skin before signs of aging are even visible, with a marked focus on the importance of experiencing life rather than material possessions. The growing interest in preventative treatments is part of a larger emphasis among young men and women to prioritize mental and physical wellbeing, with aesthetic treatments becoming normalized as part of a healthy self-care regimen. Taking care of our skin and appearance is another part of maintaining our overall health, with cosmetic treatments acting as an important part of that. 
This is also connected to the increasing desire for more natural-looking results, as preventative treatments focus on taking care of one's appearance and skin so as to keep skin healthy and looks youthful before signs of aging develop. When it comes to maintaining an already youthful appearance, more natural-looking results are preferable, with younger patients interested in keeping their skin and bodies healthy with aesthetic treatments, but wanting to enhance and maintain their individual beauty. So, which side of the "anti-aging" vs. "healthy aging" conversation do you find yourself leaning towards?
In our recent survey which asked, Are you more interested in anti-aging or healthy aging? 60% of readers said healthy aging and 40% said anti-aging.
No matter which side of the fence you are on, it is important to stay up to date on the latest anti-aging and healthy aging trends. Here are five informative MedEsthetics articles on healthy aging treatment trends and five on anti-aging trends to help you do just that. 
Healthy Aging Treatment Trends
Anti-Aging Treatment Trends
Check back every Tuesday for a new one-click survey.
We'll reveal the answers in next week's MedEsthetics newsletter.