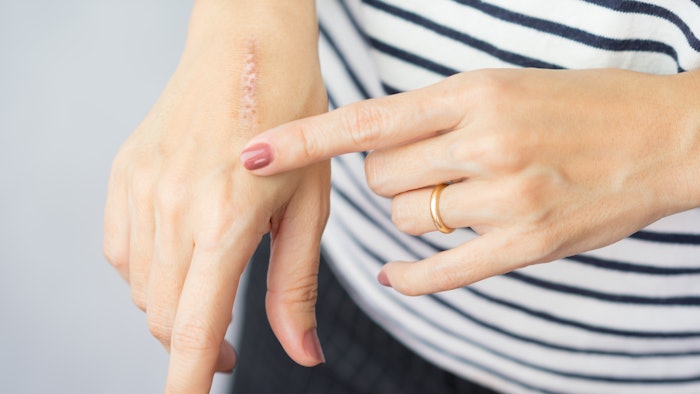 myboys.me - stock.adobe.com
Scar and wound healing is a standard inquiry in medical aesthetics, and treatments are constantly evolving. The latest innovations in medical aesthetics include using platelet-rich plasma (PRP) and exosomes to enhance healing. Exosomes contain nearly three times the amount of growth factors as adult stem cells, reportedly containing nearly three times the amount of growth factors as adult stem cells.
Related: Active Concepts Introduces BioAuthentic Exosomes Line for Skin Care
PRP Global Market Report
ResearchAndMarkets.com's report on the global PRP market size projects the market to reach $1.94 billion by 2030, registering a CAGR of 15.1% from 2023 to 2030. The growth of the industry is driven by an increasing number of cosmetic surgeries, the rise of national and international sporting events and expanded research in plasma-based therapies, according to the report, which also reports that R&D efforts and regulatory approvals for PRP treatments are significant factors propelling the market.
The report indicates that PRP is in high demand for treating sports injuries, orthopedic disorders and musculoskeletal conditions, offering faster healing through growth factors concentration. It is also extensively used in regenerative medicine, customizing treatment for each patient to accelerate wound healing and repair, and plastic surgery, providing promising results by leveraging the body's natural tissue repair process. The advantages of PRP include ease of use, cost-effectiveness using a patient's cells, and minimal risk of adverse reactions, although it requires multiple sessions and time.
PRP is commonly used in medical aesthetics for skin rejuvenation, pigmentation correction, acne scar treatment and skin tightening. It also supplements hair transplants, aiding in hair follicle formation and maintenance.
Related: PRP Can Be Effective Treatment for Scar Management
By application, the orthopedics segment dominated the market in 2022 due to an upsurge in the number of research studies to investigate PRP across various applications in orthopedics, according to the report. However, other segments such as dermatology, sports medicine and ulcer healing are projected to grow at a faster rate over the forecast period
North America dominated the global market in 2022 due to wider applications of RPP, rising awareness about PRP-based treatments, and an increasing number of orthopedics incidences. Asia Pacific is projected in the report to grow significantly in the future due to a rising number of cosmetic surgeries and the growing medical tourism industry.
Exosomes Global Market Report
Roots Analysis has released data on the global exosome therapy market projections from 2022-2040. With the rising demand for therapeutic advances in drug safety, the market is expected to grow at an annualized rate of 41% between 2029 and 2040. The projected market opportunity is reported to be well distributed across different routes of administration, types of formulations and key geographical regions.
Per the report, both industry and non-industry players are attempting to develop exosome therapy for disease management, some of which are already in clinical trials. In recent years, therapies utilizing extracellular vesicles have garnered significant attention for the treatment of diverse indications. Various research studies have demonstrated the potential of exosomes in disease diagnosis, drug delivery and therapeutic applications.
Since the COVID-19 pandemic, there has been a steady increase in the investigational new drug (IND) applications filed for exosome therapy. The report cites a review of more than 200 studies evaluating mesenchymal stem cell (MSC) derived exosomes for preclinical use that found that exosomes demonstrated benefits in more than 70% of studies.
Related: Why Exosome Combination Therapy is the New Gold Standard for Treating Acne Scars
The report identifies that the current pipeline features more than 120 exosome therapeutics that are being evaluated across different phases of development; most designed for intravenous administration. More than 530 grants have been awarded for the ongoing R&D efforts for exosome therapeutics; the University of California was awarded the maximum grant amount of $21 million for ongoing exosome research, according to the report.
A variety of investors, having realized the benefits and future opportunities in this field, have invested more than $570 million across more than 30 instances, since 2017 The rising interest of stakeholders in exosome therapy is also reflected by the increasing number of partnerships established by various industry and non-industry players. More than 30 start-ups are driving innovation in this domain; a variety of R&D initiatives have been undertaken by these players over the last few years for the development of exosome therapeutics.
ExoCel Bio Study on Exosomes
One study on exosomes by ExoCel Bio was recently published in the Journal of Drugs in Dermatology.  The study, conducted by Marina Peredo, M.D., a board-certified dermatologist, and Shanthala Shivananjappa, M.D., presents a series of cases where patients were treated with exosomes after an aesthetic treatment or traumatic injury. ExoCel Bio manufactures medical grade, fully lab-tested and non-lyophilized pure exosomes.
The doctors applied Exocel Bio's Exovex serum topically to patients post fractional non-ablative laser treatment and made a comparison with PRP treatments. It was found that exosomes rapidly and dramatically accelerated recovery times for these patients with no adverse effects. For aesthetic treatments, exosomes provided minimal downtime and with post-surgical scarring, wound healing was sped up significantly.
"These findings are invaluable to the progression of exosome treatments aesthetically and in wound healing," says Roger Schechter, M.D., the chief medical officer of ExoCel Bio. "It shows how exosomes are able to alleviate pain, scarring and more. We are thrilled to share our findings in the Journal of Drugs in Dermatology."