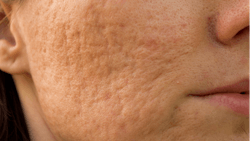 A July 2022 study in the Journal of Tissue Engineering and Regenerative Medicine evaluated the effectiveness of platelet-rich plasma (PRP) in the management of various types of scars. The study, published by Zahra Ebrahimi, et. al., found PRP to be safe and effective for various types of atrophic scars. When added to ablative lasers or microneedling, it added notable efficacy and reduced the side effects of the treatment.
Related: PRP vs. Carboxytherapy for Periorbital Dark Circles Treatment
Thirteen clinical trials were enrolled in the meta-analysis and 10 more were reviewed for their results. Patients treated with PRP experienced an overall response rate of 23%, comparable to the results seen with laser or micro-needling (22% and 23%, respectively). When used alone, moderate improvement was observed at a 36% rate, the most frequently observed degree of response with PRP. When added to laser or micro-needling, most patients experienced marked moderate (33%, 43%, respectively) or excellent (32% and 23%, respectively) results.